More Efficient Prospecting with SalesHub. HubSpot's New Features
Prospecting, which involves finding and identifying potential customers, plays a crucial role in the work of every salesperson. Market analysis, customer behavior analysis, as well as active networking and building relationships with potential customers, allow us to better understand their needs and tailor our offers to their expectations. It's important to conduct prospecting wisely: not wasting time searching for data, but focusing on understanding and utilizing it to the fullest. In this post, I'll show you how to use the latest HubSpot features for this purpose.
HubSpot has prepared a whole package of new features for SalesHub users, making it easier for the sales team to reach customers more precisely through testing solutions, reporting, and efficient lead management. Let's take a closer look at some of the most interesting ones.
Prospecting Workspace
This view is a real game-changer for salespeople. Now, in one place, they will find all the tools and data they need to carry out their tasks without having to switch between applications.
The "Leads" tab allows for smooth lead management. You can convert contacts into leads and assign them the appropriate status based on your actions. No more hassle with lead assignments to representatives and no more unnecessary work.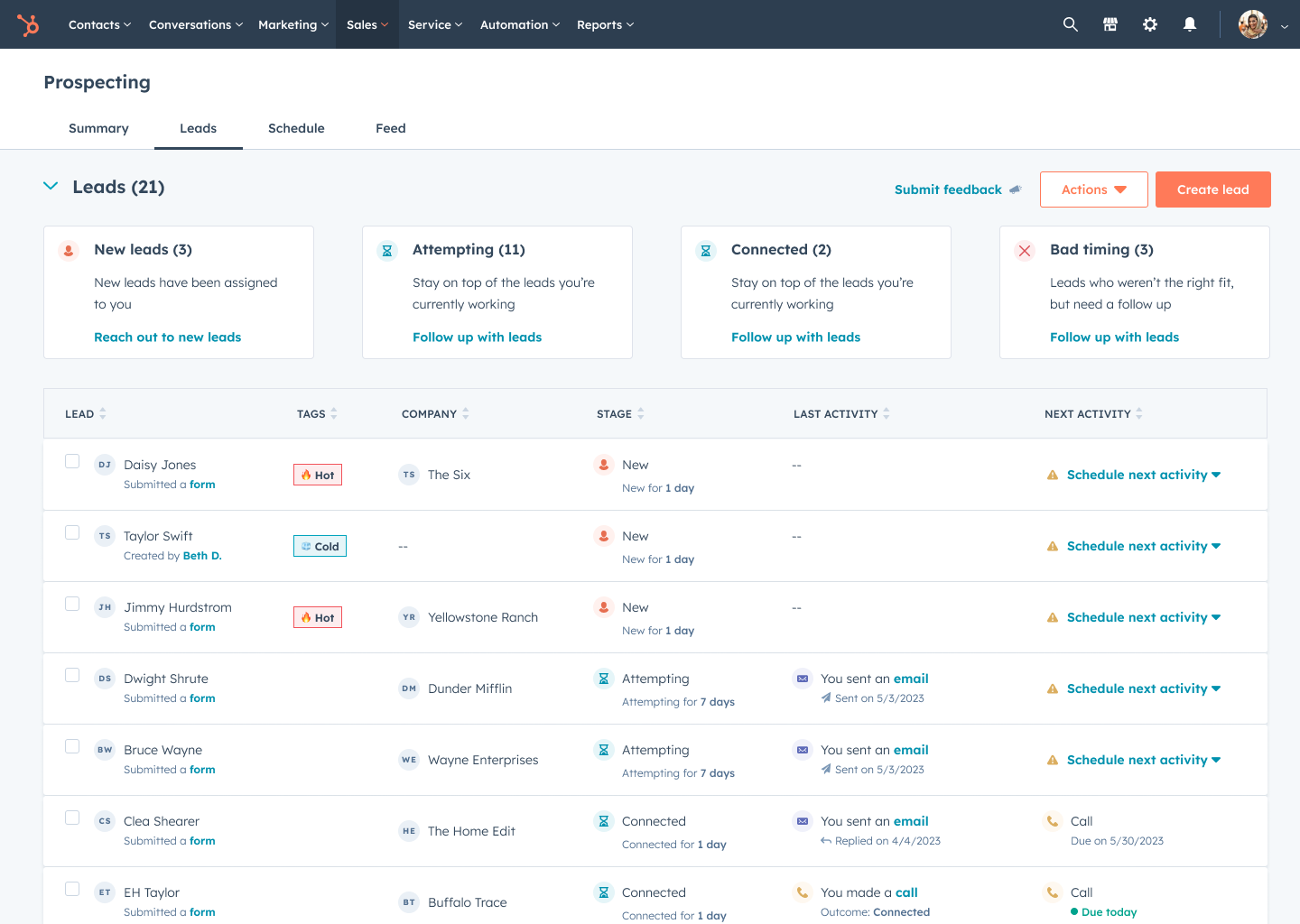 Smarter Sequences
When conducting sales activities, it's crucial to know which ones work best. I recently wrote about using automated sequences in sales. Setting up a sequence is one thing, but finding the one that works most effectively is another. With the new testing and reporting features, you can now optimize all sequence steps and assess the effectiveness of your actions based on data. The entire set of new sequence-related tools includes:
A/B Testing: Allows you to send different email versions within a sequence to choose the one that performs better.
Sequence Step Analytics: Now available for all types of sequence steps.
Sequence Outcome Reporting: Allows you to link sequences to sales results to determine their revenue-generating impact.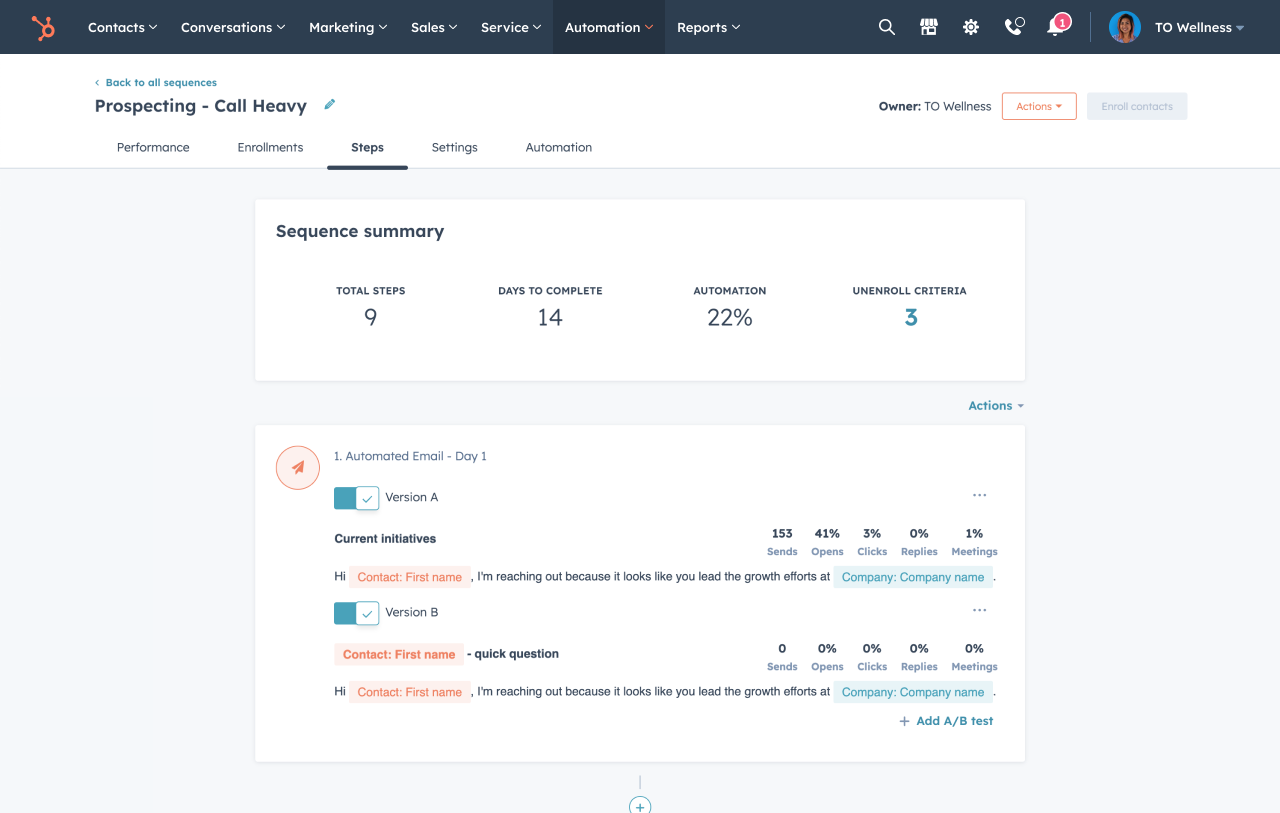 Seamless Handoffs
These features will be particularly useful if you manage a sales team. They facilitate lead handoff and allow salespeople to contact the customer without unnecessary delays, precisely when they are most interested.
Lead Form Scheduling: Create conditional redirect rules in HubSpot forms to automatically qualify and route your leads to the right representative.
Book Meetings on Behalf of Others: Book meetings on behalf of others or evenly distribute your leads among team members.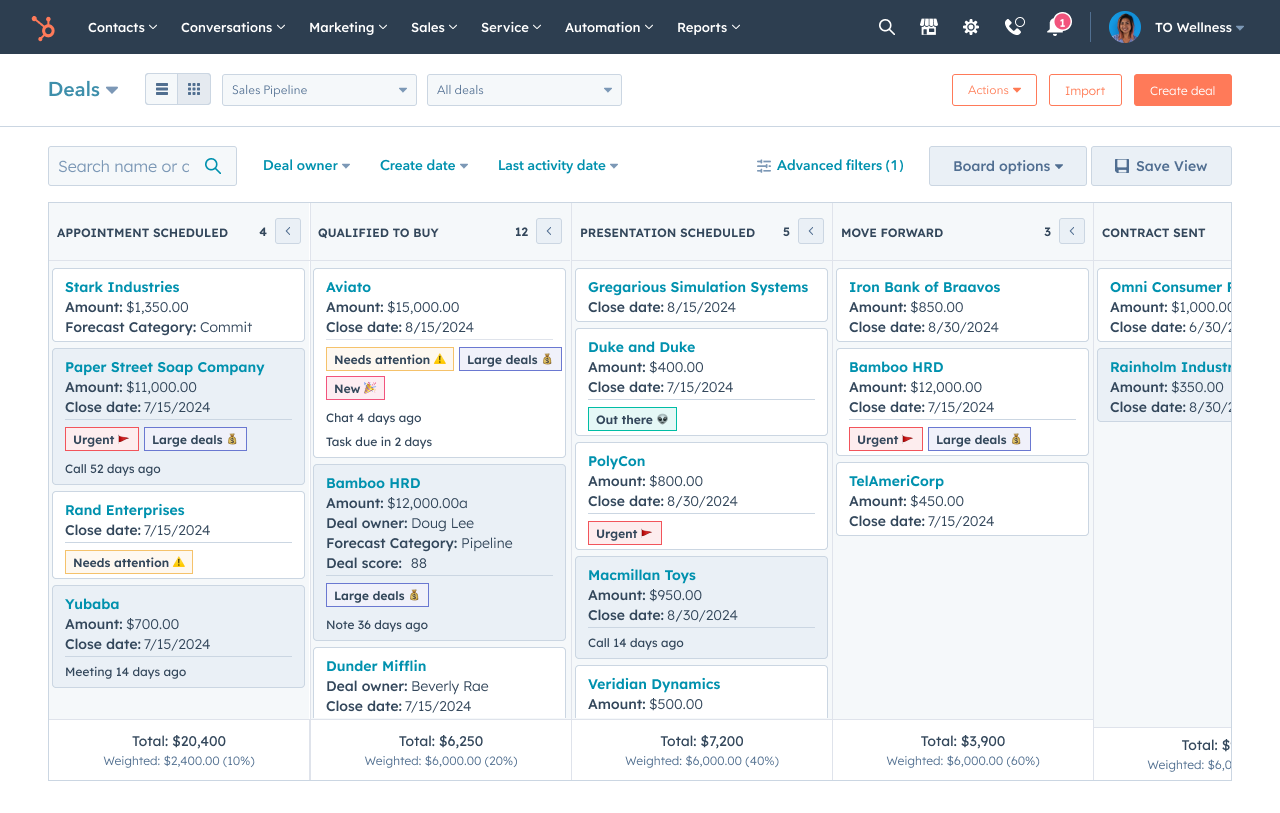 Prospecting Tools on Mobile
Prospecting can be conducted not only from a desk. If you're often on the go and your favorite work tool is your phone, you'll certainly appreciate the availability of additional tools in the app. Now you can save sequences, pause them, and withdraw contacts from them. The mobile app also includes a content assistant, which helps you generate sales emails, and a QR code scanner for easy contact vCard import.
Forecast Intelligence
HubSpot is introducing more AI-based tools to its CRM. Forecast intelligence will help predict sales more accurately and adjust plans more effectively. When planning your sales, it's worth trying out features that allow you to compare AI-based forecasts with manually entered ones and assess the effectiveness of your predictions. These features include:
Predictive Forecast: Evaluate your manual forecast submissions against a new AI-powered projection and take the necessary steps to beat your plan.
Accuracy Tracking: Use your historical forecast data to track the accuracy and reliability of your forecast submissions.
Embedded Insights: Stay on the right track with insights into forecast and pipeline trends.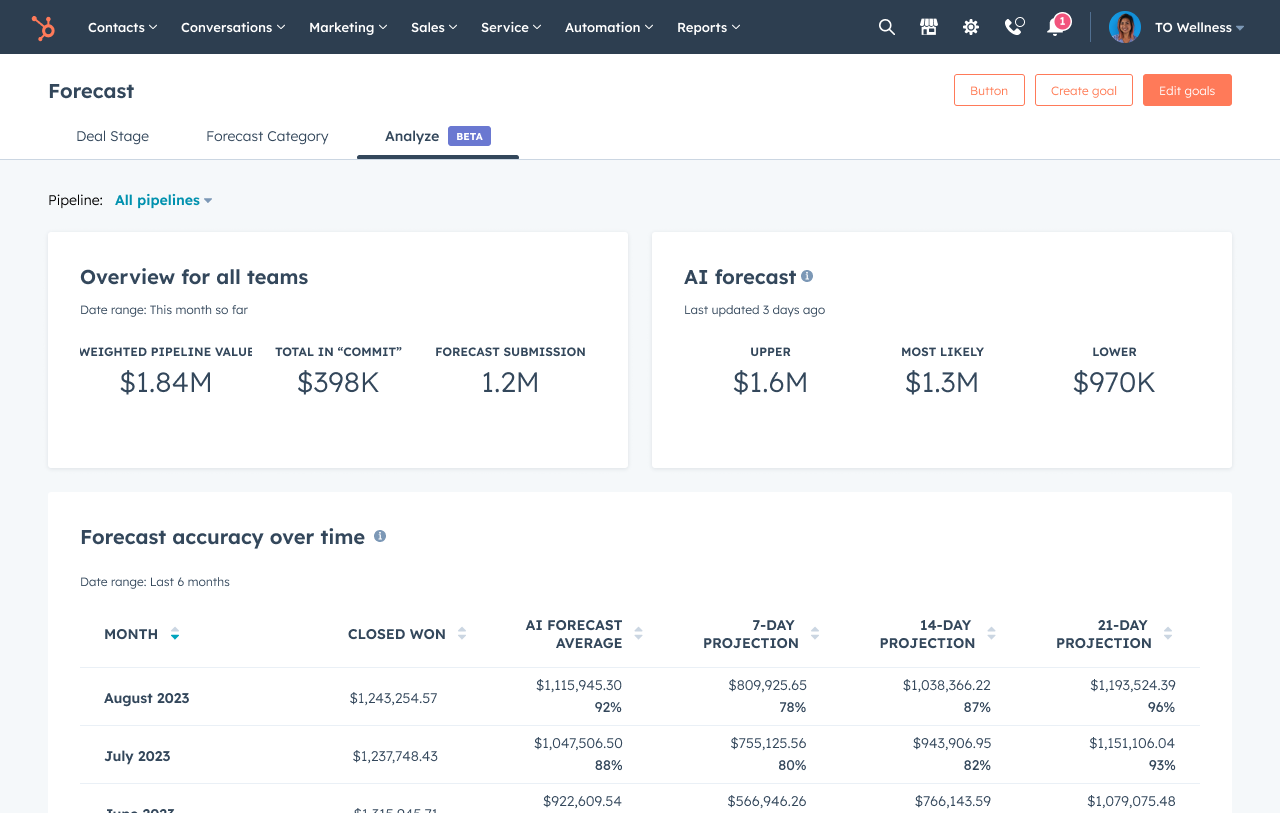 Reporting
Finally, a set of reporting tools that will help you better control the effectiveness of the sales process. If you want to apply Revenue Operations strategy more efficiently, these tools will be invaluable. With them, you can track the effectiveness of the sales funnel, learn about lead sources, and gain a comprehensive understanding of your teams' actions. Available options include:
Prospecting Activity Reporting: Provides a comprehensive view of your representatives' contact activities, including conversion rates, activities per contact, and activities per day.
Lead Reporting: Allows you to gain data-based knowledge of the path from lead generation to revenue generation and better connect marketing and sales teams. You can use the Lead Contact Rate Report to discover which contact methods generate the most valuable leads and the Lead Source Report to see how your inbound, sales, or product-qualified lead sources perform.
Deal Velocity Reporting: The Deal Funnel Report and Deal Journey Analytics enrich your knowledge of individual transactions. Now, you can track not only the customer's purchasing journey but also the fate of each deal to identify bottlenecks and eliminate them effectively.
Where Is Sales Hub Heading?
The new features in Sales Hub are a step towards more efficient, data-driven sales management. They also represent the development of AI-based features. Lastly, and equally important, HubSpot cares about user convenience and ease of use, adding a new lead management dashboard and more mobile features. The latest features will certainly be appreciated by sales managers and all salespeople.
Sales Hub works perfectly in conjunction with other HubSpot modules, but you can also integrate it with your CRM. All of this is aimed at ensuring that nothing stands in the way of your sales team's development, no matter where you are right now. If you want to learn more about implementing HubSpot or how to use HubSpot tools for more effective sales, feel free to contact us – we'll be happy to help!"