What is Marketing Automation?
Łukasz Kosuniak
You can read this text in

10
min
Marketing Automation, like any new trend, has lived to see hundreds of articles and dozens of definitions. Unfortunately, not all of them correct.
If you read this material to the end, you will learn what marketing automation is. You will also learn what marketing automation is not. You will also learn the most important functions of marketing automation tools. Good luck.
What is Marketing Automation?
Marketing automation is a set of tools and processes that allows you to identify and personalize communication with potential customers. Such communication is possible by analyzing information obtained directly from customers (e.g., form data) and with the help of observing their online activities (digital body language) (see also Marketing automation article)).
If you doubt whether your knowledge is sufficient to successfully carry out such an implementation, I have good news for you. You can find basically all the necessary knowledge completely free on the web. You can also buy a book by the creators of one of the best marketing automation tools, in which they explain the most important concepts (e.g. digital body language).
Marketing or email automation?
Also, not every software that facilitates the work of marketers belongs to the marketing automation group. The most common mistake is to confuse marketing automation with email automation tools. In a nutshell, email automation functionality is just one element of marketing automation. Mathematically speaking, it is a subset of it :).
The 12 most important functions of marketing automation tools in B2B
So you already know that marketing automation is not just email automation. Here are the most important features you'll find in good marketing automation tools. I'm focusing here on the functions most often used in the B2B area, and I'm not going into the area of e-commerce, which can also be integrated with marketing automation. I'll talk about that in a separate article.
1. Lead scoring.
- the ability to automatically assess a lead and their readiness to initiate a sales contact. Lead scoring is created in the process of interaction of a potential customer with the company's content and resources. It consists of an assessment of actions (engagement) and information provided directly (profiles, sometimes called the match rate) Each action and information provided is scored accordingly. For example, clicking on a link in an email means 10 points but attendance at a conference is already at 50. On the explicit side, a managing director (if he stated his position in the form) will receive more points than an intern in his department. Lead scoring criteria are set with the sales department and determine when salespeople are engaged with a potential customer. Below is a simple scoring model including a profile score (above) and a behavior score (below) - a screenshot from Oracle Eloqua.

2. Dynamic content.
- the ability to present different content on one site depending on the customer profile. This feature is useful if we want users who return to us or enter the site from specific campaigns to see content tailored to the information we have about them. This way we don't have to create multiple domains because only the content of the site changes.
3. Customer Profile
- a report view that allows you to collect all the information available in the system about a potential customer. This tool is highly valued by salesmen. At the stage of preparing for the first conversation, they can check all the information about the potential customer that has been collected by the marketing automation system. If the customer, for example, opened our mailings right away and downloaded several e-books we already know a little about his interests or needs.
4. Content Management.
- tools to create, accept and publish content based on criteria (e.g. persona) defined for marketing automation activities. Such tools help to prepare content targeted to specific personas. They streamline the content acceptance process. If, for example, a lawyer's approval is required, he or she will be automatically informed of the new content and his or her opinion will also be marked accordingly. The best of such tools can even assess the potential of the text in terms of SEO and even suggest topics that may be of interest to our marked target audience.
5. Interaction programming
- planning multi-threaded campaigns based on providing prospects with content matched to their current profile and acquiring new information based on information obtained directly from customers (e.g., fomular data) and with the help of observation of their online activities (digital body language).
Below is a sample campaign editor that defines triggers, i.e. conditions for action, and actions that will be executed based on the condition. Screenshot from the Userengage.io platform.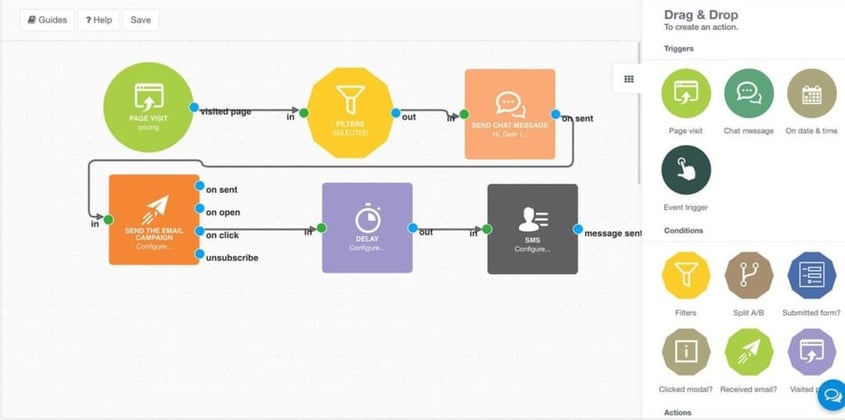 6. Landing Pages
- the ability to create simple web pages designed for a specific purpose, such as invitations to conferences, obtaining data in exchange for an e-book, signing up for a newsletter, etc.
Below is an example of the Landing Pages wizard - a screenshot from the Getresponse platform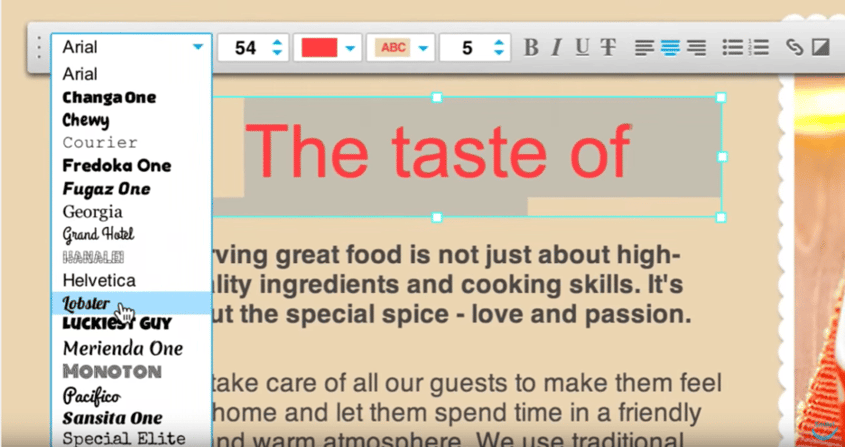 7. Campaign ROI analysis
- the ability to track the cost of a campaign and its sales effects (usually through integrated CRM software.
8. Integration with CRM
- the ability to automatically exchange data between Marketing Automation and CRM comes in handy for marketers who want to measure the results of campaigns and for salespeople who want to obtain information about the profile of a potential customer who has been qualified for sales activities.
9. Customer segmentation
- a function to automatically or manually create dynamic groups of customers based on their interactions (e.g., webinar participation) and information on or about them acquired (e.g., industry, job title, communication preferences)
10. Subscription management
- the ability to automatically respond to changes in customers' communication preferences, e.g., unsubscribing from a newsletter, withdrawing consent to commercial contact.
11. Progressive profiling
- the ability to create short forms that display only fields that have not been filled in by the customer. E.g. a customer who has already given us a job title will not be asked about it a second time, but he will see a question about, for example, the size of the company. This way returning customers are not annoyed by the same questions and at the same time we collect additional information.
12. Access management
Advanced access level management is useful for large organizations, where access to the tool (and therefore all data, including personal data) often has dozens or hundreds of people. Such organizations need several levels of access ak so that imprudent or malicious behavior by one employee or subcontractor does not bring trouble to the company. This is especially important in light of increasingly restrictive data protection laws. Large organizations have the most to lose here, so they should pay special attention to this functionality.
Of course, not all functions are necessary and will be used right away, but it's worth knowing what to expect from such systems.
Choose the right tool
Remember, too, that as in any market, segmentation also applies to marketing automation tools. Different tools are aimed at companies of different sizes.
Small companies
And so for SMB companies, tools such as Userengage.io or Getresponse are designed to be relatively cheap and easy to use. They are quick to deploy and don't require IT labor. These are tools that even a few people or one-person companies can use. They are sold in the Software as a Service model so they do not require the purchase of a server and are billed on a subscription basis so they do not require a large start-up investment.
Medium-sized companies
Medium-sized organizations that, for example, have a CRM also have a suitable offering - this would include Hubspot or Marketo. These types of tools have more developed administration and reporting mechanisms. Also, analytical tools (page statistics, newsletters, scoring, etc.) are usually more developed. They also have more licensing options.
Large companies
At the top of this pyramid are Enterprise-class systems, which offer the complete set of features I previously mentioned and are encased in additional tools. An example of such a system is Eloqua, which is part of the Oracle Marketing Cloud suite. I had the opportunity to implement this tool at Samsung. It is an absolute Rolls-Royce among systems for marketing auoutomation, but its full capabilities will be used by large organizations. It is not even about the number of people involved in the service, but the size of the market addressed by the client and the level of complexity of marketing processes.
I haven't listed all the tools here, of course, and the dividing lines between segments are also quite fluid. On the topic of choosing the best marketing automation tool, I will write a separate article soon.
From experience, I can hint that large organizations should not look for MA systems in the SMB segment. There will quickly be barriers related to integration with other systems, challenges related to the lack of multiple language versions of the interface, etc. In addition, migrating to a more advanced system when you already have segments built, campaigns running continuously and customer scoring updated on a regular basis can prove difficult and expensive.
Learn more.
In the next article, I will show the most important benefits of using marketing automation and give some tips on how to measure the effectiveness of such tools and processes. In a nutshell, we will learn how to prove to management that it was a good investment.