Can HubSpot Replace Email Marketing Tools? Let's Find Out!
Jarosław Czyżewski
You will read it in

6
min
In the digital age, email marketing has become an essential tool for businesses to reach and engage with their customers. Among the thousands of available MarTech tools, a significant portion consists of email marketing tools, and many companies likely have one of them. When choosing and implementing an all-in-one platform like HubSpot, the natural question arises: will it be able to do what we have been doing so far with specialized tools?
Let's find out! In this blog post, we will explore HubSpot's email marketing features and shed light on why it is much more than just an email marketing tool.
Powerful Email Marketing Features
With the development of new communication forms, you may be wondering whether it is still worth paying attention to email marketing and investing in tools that support it. Let's look at the statistics:
As reported by the Digital Marketing Institute:
64% of decision-makers use email.
Email marketing converts leads 3 times better than social media.
44% of consumers who receive targeted emails report making at least one purchase as a result.
Furthermore, the ROI for this method is as high as $36 for every dollar spent! You can find more statistics in this article.
Whether you're a seasoned marketer or just starting out, HubSpot offers a range of features that can help you create and execute successful email campaigns. To get started, you can check out our step-by-step guide on email campaign creation in HubSpot.
Now, let's explore the basic and advanced functionalities that enable email marketing through HubSpot.
1. Easy Email Creation and Customization:
With HubSpot, you can create visually appealing and customized emails effortlessly. It provides a user-friendly drag-and-drop email editor that allows you to design professional-looking emails without any coding skills. From choosing templates to personalizing content, HubSpot makes crafting engaging emails a breeze.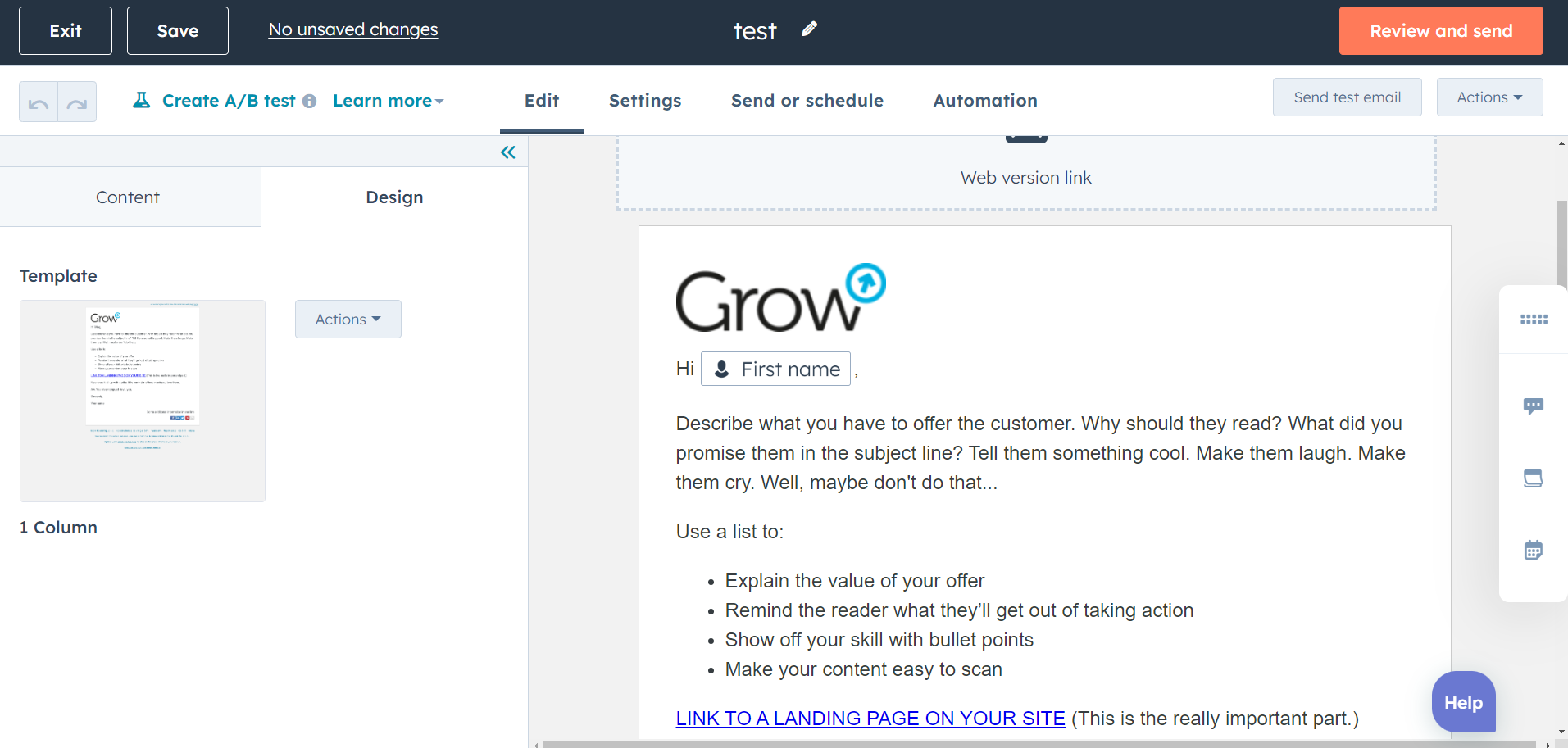 2. Segmentation and Personalization:

The foundation of effective email marketing is creating your own mailing lists. HubSpot allows you to create a contact database and continuously edit it. With a consistent database, you can easily determine whether the accounts are active and the addresses are correct. You will also take care of GDPR compliance management.
Segmentation is the key to effective email marketing, and HubSpot excels in this area. It enables you to segment your email lists based on various criteria like demographics, behavior, and engagement. This helps you send targeted emails to specific groups, enhancing their relevance and increasing the chances of conversions.



3. Automated Workflows:

HubSpot's automation capabilities go beyond basic email scheduling. It allows you to create complex workflows that automate your entire email marketing process. You can set triggers, define actions, and send personalized emails based on user behavior, making your campaigns more efficient and effective. If you would like to learn more about automated sequences, please check out my recent blog post.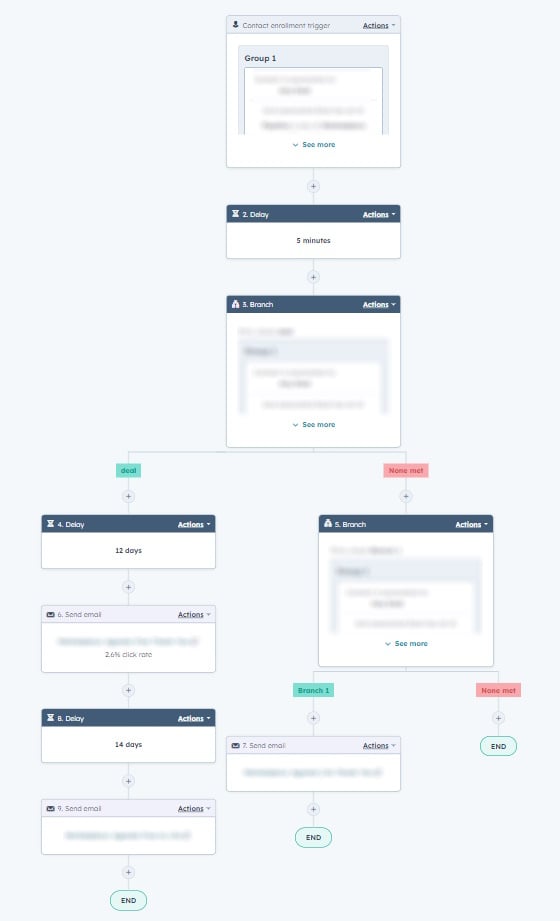 4. A/B Testing:

Curiosity may have killed the cat, but it's a marketer's best friend. HubSpot offers A/B testing functionality, enabling you to test different elements of your emails, such as subject lines, content, and CTAs. This valuable feature allows you to optimize your email campaigns by identifying what resonates best with your audience.

Of course, you can also check how many recipients have opened the email or clicked on the link.
Much More Then an Email Marketing Tool
While HubSpot boasts powerful email marketing functionalities, it is important to note that it is a comprehensive inbound marketing platform. It integrates various marketing tools, including CRM, social media management, blogging, and lead generation, all under one roof. This means you can have a holistic marketing approach, saving time and effort by using a single tool.

HubSpot's CRM integration helps you align your marketing and sales efforts seamlessly, allowing you to track and nurture leads more effectively. The social media management and blogging tools enable you to create and distribute content, amplifying your reach and engagement. Additionally, HubSpot's robust analytics and reporting features provide valuable insights to measure your marketing efforts' success.


Can H
ubSpot Replace My Email Marketing Tool?

While email marketing tools are still valuable assets for businesses, HubSpot offers a comprehensive solution that goes beyond just email marketing. Its powerful email functionalities, combined with other marketing tools, make it a versatile platform for marketers looking for an all-in-one solution. Whether you're a small business, a growing startup, or a large enterprise, HubSpot can help streamline your marketing efforts and drive better results.

So, can HubSpot replace email marketing tools? It might just be the case. However, the decision ultimately depends on your business's specific needs and goals. Consider exploring HubSpot's capabilities and see if it aligns with your marketing strategy. If it does, you'll have a powerful tool at your disposal to engage, nurture, and convert leads effectively. Are you unsure how to implement HubSpot email marketing tools in your business? Let us know, we will be glad to help!