Content Matrix - how to design?
Łukasz Kosuniak
You can read this text in

12
min
A content matrix is a tool with which you design and execute a content strategy. It allows you to determine who you want your content to target, at what stage of the decision-making process you want it to reach your customers, and how it can help them at each of these stages. This tool is very useful for companies that plan to implement Marketing Automation.
From this article you will learn:
Why a content matrix is an effective tool for creating a content strategy
What are the most important elements of a content strategy
How to design a consistent and sales-effective content strategy
How to move from planning to implementation with a content matrix
Why do you need a content strategy?
When helping B2B clients create or redesign their marketing strategy, I very often notice that they start things a bit backwards. They prepare a lot of material about the product - its features, pricing, comparisons with competitors, etc. Meanwhile, this type of content is useful at the very end of the B2B buying process. If we do not take care of a consistent message at each stage of the customer's decision-making process, we will never get to the latter.
Content strategy or rather the lack of it is also a serious problem for companies that implement Marketing Automation systems. Suffice it to say that I myself, when I implemented such a system as a client a few years ago, also did not pay enough attention to it and the initial campaigns were not as efficient as we expected them to be.
Buyer Persona - base it on facts, not perceptions
Another problem is a content strategy built on faulty assumptions. This is especially true when it comes to knowledge of the customer and their decision-making process. Working with companies, I often notice that their knowledge of the customer's decision-making process and its needs at each stage of the process is rather imaginary and supported by more or less experience gathered by salespeople. Such a situation is particularly dangerous, because on the surface we think we have a fair amount of knowledge about customers and can start planning and producing content on this basis. Unfortunately, very often later it turns out that this content is not interesting enough, because it relates more to our own imaginations than to the customer's real problems.
That's why, when developing a content strategy, I use a simple but quite effective tool, thanks to which marketers quickly find out whether their knowledge of the customer, the resources they have or the planned activities are likely to translate into sales success.
How to use the content matrix?
Let's now discuss the various elements of the content matrix that I use and how it can be used in content strategy planning.
It's worth distinguishing here between the content matrix, which is a strategy planning tool, and the content calendar, which is part of strategy execution management. In short, the content matrix allows you to reasonably fill the content calendar with specific activities.
Of course, there is no single formula or patent for the best content matrix, I share my version because I know that clients see value in using it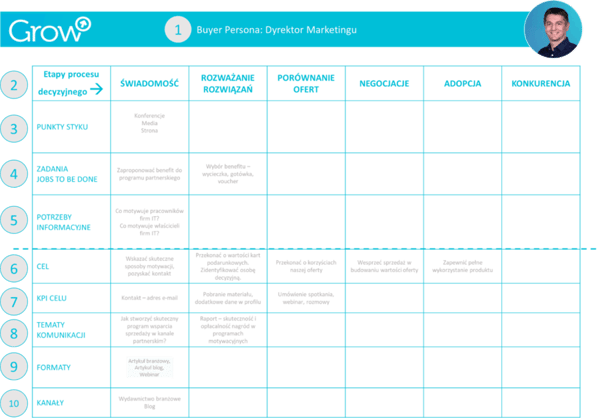 1. Buyer Persona
We start by determining who we want to be the audience of our content. If you want your content to actually make customers take action, it's worth determining who you want to reach. And here's the first point - don't make up your buying persona. The buying persona especially in B2B needs to be developed based on research - interviews with existing customers. On this basis you will determine the specifics of the decision-making process, problems and challenges of customers. Remember that there are several decision makers involved in the B2B buying process
2. Identify the stages of the decision-making process
A well-developed buying persona will also give you an answer to the question of how buying decisions are made in your customers' companies. With this, you can identify the stages of their buying journey (Customer Journey). I, for the sake of simplicity, have suggested 6 stages, two of which relate to the post-purchase phase. Remember not to skip these "post-purchase" stages especially if you serve customers in a revolving model - for example, you offer SaaS software.
Knowing the stages of the decision-making process gives us the opportunity to create content that will be valuable in a specific context. E.g. in the early stages of the decision-making process, it is much more important to show the spectrum of possible solutions to a customer's problem than to attack them with the specifications of our product.
3. Identify points of contact
This part of the matrix is important if we want to make sure we are present with the right content at the right points of potential customer contact with the brand. For example, if we know that customers in the initial stages are looking for information in industry articles and at conferences, we already know where to direct attention and what type of content to design for customers starting the decision-making process from the discernment phase.
4. Tasks to be done (jobs to be done)
I recently introduced this element into the content matrix inspired by Prof. Regis Lemmens' Value Co-Creation method. The idea is that at each stage of the decision-making process there are some intermediate tasks that we can help our potential customer with. E.g., at the initial stage, our prospect's goal may be to prepare a presentation for the board of directors on expanding her company's partner program by introducing additional benefits. Such a person will usually not be looking for specific products at this stage, but rather ideas for partner benefits. If you provide such material presenting the most effective methods of activation and motivation in affiliate programs, you will firstly reach a very specific group of people, and secondly, you will save them a lot of time and help them perfectly fulfill their task. Customers - not just business customers are looking for such useful content - this is one of the more effective ways to build trust in a brand. Remember that tasks will differ at each stage of the decision-making process.
5. Information needs
The tasks given to our shopping personas determine their information needs. The easiest way to understand this element of the content matrix is to think about the questions that arise at each stage of the decision-making process. Of course, you can't make up these questions for your customers. It's best if you go back to the description of the buying persona - the real one, based on interviews with customers. It is in these interviews that you will find information about what customers are looking for and asking. It's worth supplementing this knowledge by analyzing hotline inquiries, talking to salespeople and using social tracking tools - such as Brand 24. Knowing the information needs and tasks at each stage of the process, you can design content that is truly relevant and useful to customers and therefore will be an effective sales support tool.
6. The purpose of the content
In this section we change the perspective. The previous elements represented the customer's perspective. Now it's time to make sure you're acting effectively to address his or her needs. Defining the purpose of the content helps you maintain some discipline in planning your materials. The idea is that each piece of content should have a single purpose specific to a particular stage of the customer's decision-making process. This seems obvious but if you look at today's corporate blogs you will realize that often with one article we are trying to achieve all the goals - from building awareness to inducing purchase intent. Therefore, in order to maintain consistency and discipline in content creation, it's a good idea to define these goals before we move on to creation.
7. Target's KPI
This is a measurable indicator for assessing whether a goal is being met. If our goal at an early stage is just to build outreach - perhaps reach metrics will suffice. If, on the other hand, we want to acquire subscribers at this stage - we specify here, for example, the number of people we have acquired to the mailing list. Of course, the more advanced the KPI, the more effort we need to put into the quality of content that will ensure its achievement.
8. Communication topics
At this stage we describe the main message to be presented at each stage of the decision-making process. Again, knowledge of the needs, issues and information preferences of our buying personas will be essential. I usually define these issues in the form of key phrases or working titles for articles. Based on this, we will later create viable titles for our chosen content formats.
9. Formats
Here we decide in what format the content should be delivered to our shopping personas. Very often, the only criterion we use when choosing formats is our ability to create it. Of course, this is very important but not the only criterion. Let's assume that we are well versed in video format, but most of our audience are people who practically do not leave their company car. Unfortunately, while driving the car they will not have the opportunity to read our content. In this case, an audio format - such as a podcast - will work better. This is the second criterion - take into account the preferences and ability of your audience to consume content formats. The third criterion is the specifics of the platforms on which we will embed our content. Let's stick to our example - we know that our audience will benefit better from the audio format, this will present a challenge in the case of social media platforms, which naturally do not prefer such a format themselves. In this case, we can embed a video announcement (e.g., a board with an excerpt from an audio broadcast) on social media platforms directing to a podcast platform, such as PocketCast Itunes or, more recently, Spotify.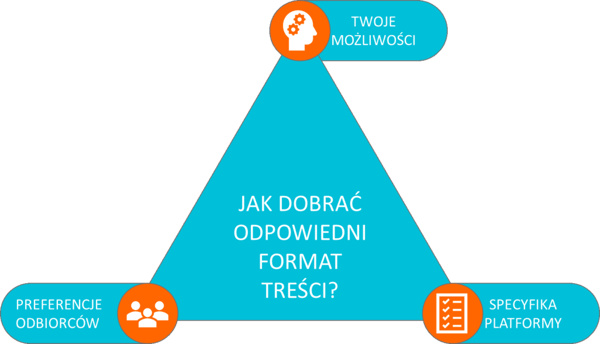 10. Channels
In principle, we have moved smoothly to the selection of the communication channel. This is illustrated by the graphic from the previous point. You can see that it is useful to make the decision on formats in conjunction with the choice of communication channel, because not every medium (channel) will support the formats we choose. However, with this matrix and the triangle of formats, you can make a more informed decision.
Summary
As you can see, completing the content matrix is not a lunch break task. And rightfully so. It's a tool to help you define a long-term content strategy, and it's worth involving not only marketers but product managers or even salespeople in the process.
You can also see that an essential part of properly developing a content strategy is knowing the needs, preferences and specifics of the decision-making process of real (based on customer interviews) buying personas.
A content matrix prepared in this way will not only be a tool for planning your communication strategy, but also a sort of compass pointing out directions when you move to the stage of producing and publishing specific content.