Why Your Website Needs HubSpot CMS?
Max Vorozhtsov
You'll read it in

7
min
I already touched the point why HubSpot CMS is good for marketers, but now let's take a look from different angle. CMS plays a pivotal role in creating and maintaining websites, that have to be well-structured and highly effective. HubSpot CMS, in particular, stands out as a powerful and versatile option.
In this blog post, I'll explore the reasons why your website needs HubSpot CMS.
Scalability
As your business grows, so will your website's needs. HubSpot CMS is highly scalable, allowing you to add new features, pages, and content without the need for a complete website overhaul. This scalability ensures that your website can evolve with your business.
In contrast to other CMS, HubSpot doesn't require a back-end developer or a front-end developer with unique knowledge. A developer who understands HTML/CSS/JS will be sufficient to build new modules and templates to scale you website. Furthermore, as I mentioned in a previous post, in most cases, you will not need a developer at all to create new pages for your website.
User-Friendly Content Management
One of the most significant advantages of HubSpot CMS is its user-friendly interface. Even individuals without extensive technical knowledge can easily create, edit, and update content. This empowers your marketing and content teams to be more independent, saving time and resources in the long run.
Plus, don't forget about HubSpot marketplace where you can find a lot of free modules and templates, that can be added to your templates or pages in several clicks.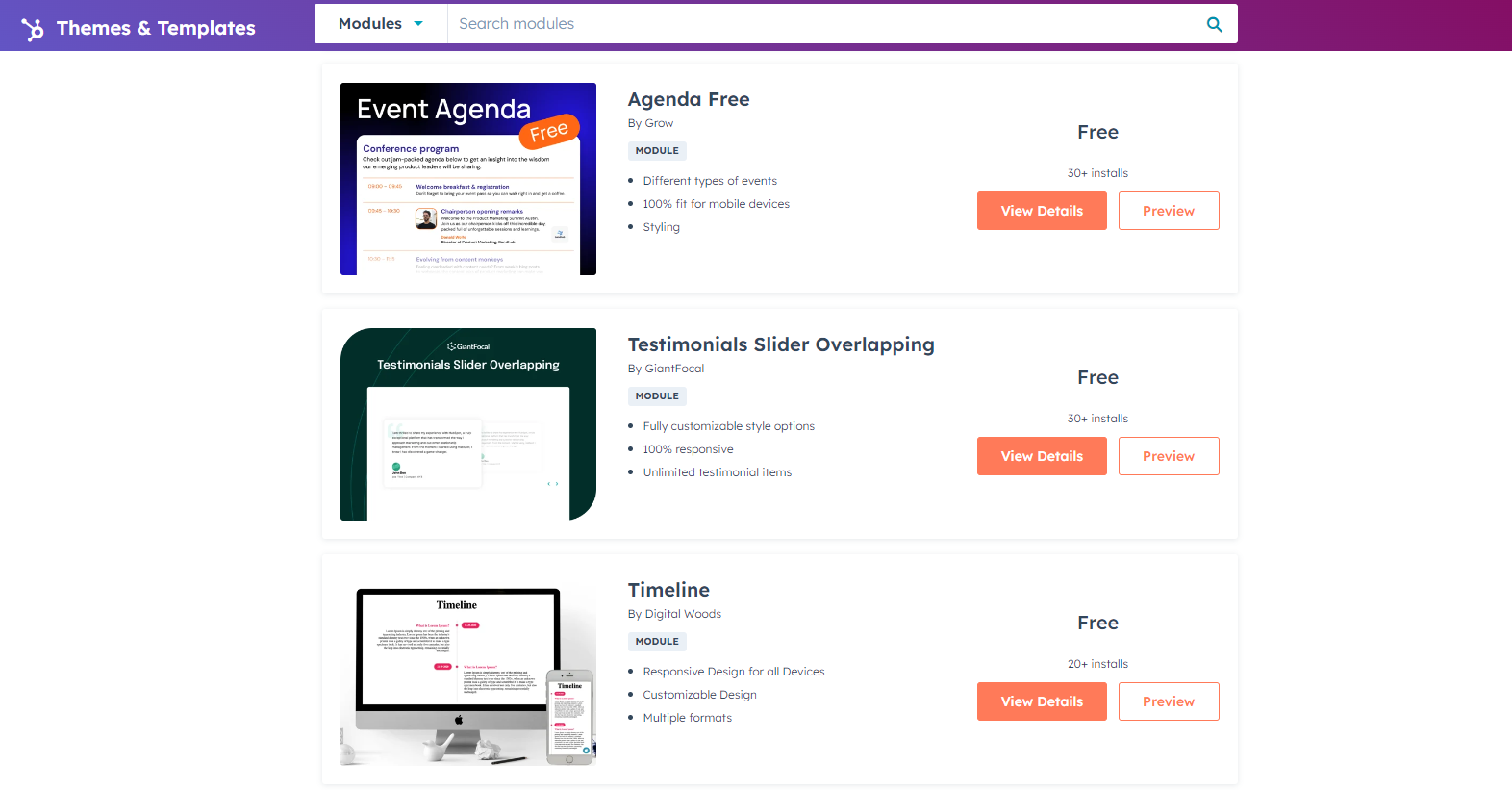 Seamless Integration
HubSpot CMS seamlessly integrates with other HubSpot tools, including CRM and marketing automation. This integration simplifies lead management, marketing campaigns, and customer engagement. Having all your tools in one ecosystem streamlines processes and boosts efficiency.
I've already covered this topic in this blog post.
Responsive and Mobile-Optimized
In an era where mobile browsing is prevalent, having a mobile-optimized website is crucial. HubSpot CMS ensures that your website looks and functions flawlessly on various devices and screen sizes. This responsiveness enhances not only user experience but also positively impacts your SEO rankings.
You can easily preview every page in desktop, tablet, or mobile version: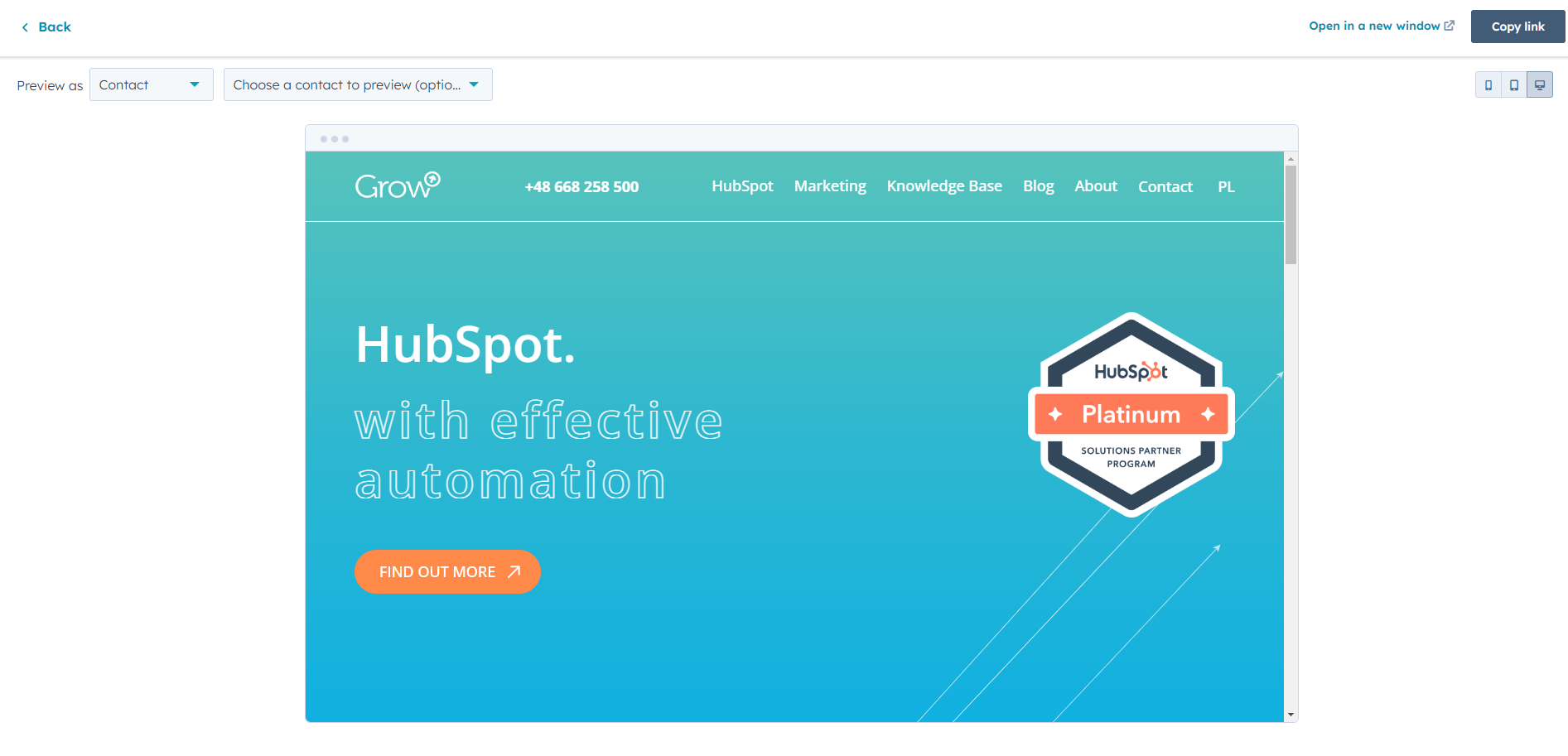 In case of content personalization, you can also check the view for specific contact or use the smart rules.
Powerful SEO Capabilities
It's unlikely that someone wants to build a perfect website for nobody. That's why the ability to improve your rankings in organic search is of paramount importance. When it comes to SEO, HubSpot CMS is purposefully designed with search engine optimization in mind. It offers built-in SEO tools and recommendations, simplifying the process of optimizing your content for search engines. Enhanced SEO results in improved visibility, increased organic traffic, and ultimately, more conversions.
At any given moment, you can check how your SEO efforts are performing and identify which parameters need updating. For example, here's a report for our blog in May 2023. We've noticed an increase in positioning (and subsequently, an increase in impressions), but a slight decrease in clickthrough rates. With such a report, our team knows exactly what steps to take.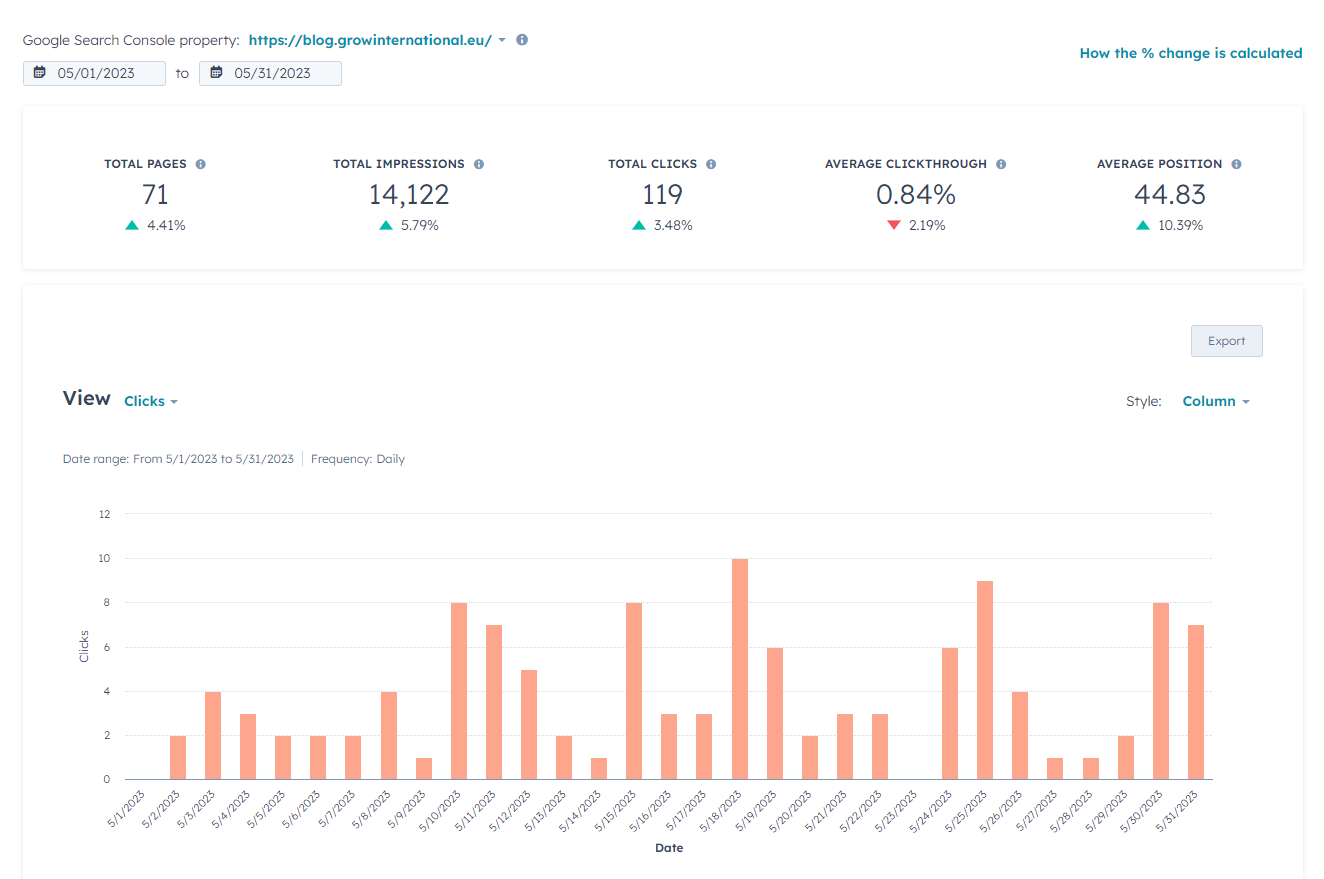 These recommendations are not general; they are highly specific, providing clear instructions on what needs to be done and where:

Analytics and Reporting
In addition to SEO performance, you can assess the overall website performance, which is crucial for making informed decisions. HubSpot CMS offers comprehensive analytics and reporting tools that provide insights into user behavior, content performance, and more. These insights can inform your content and marketing strategies.
You can effortlessly monitor not only basic parameters but also marketing performance, such as Facebook, Google, or LinkedIn campaigns, as well as other marketing activities beyond HubSpot.
Security
By selecting HubSpot CMS, you gain access to robust security measures, including regular updates and patches designed to safeguard your site against potential threats. This is particularly crucial when dealing with sensitive customer data.
We covered the topic of HubSpot security in one of our previous blog posts.
A/B Testing and Personalization
HubSpot CMS enables A/B testing and personalization, empowering you to fine-tune your website's content and design in response to user behavior and preferences. This high degree of customization can have a profound impact on user engagement and conversion rates.
You can conduct A/B tests to measure which page yields a higher conversion rate. With the latest HubSpot update, A/B tests can now be conducted not only with minor content adjustments but also with entirely different layouts.
Once an A/B test is live, you can analyze the number of visits for each version: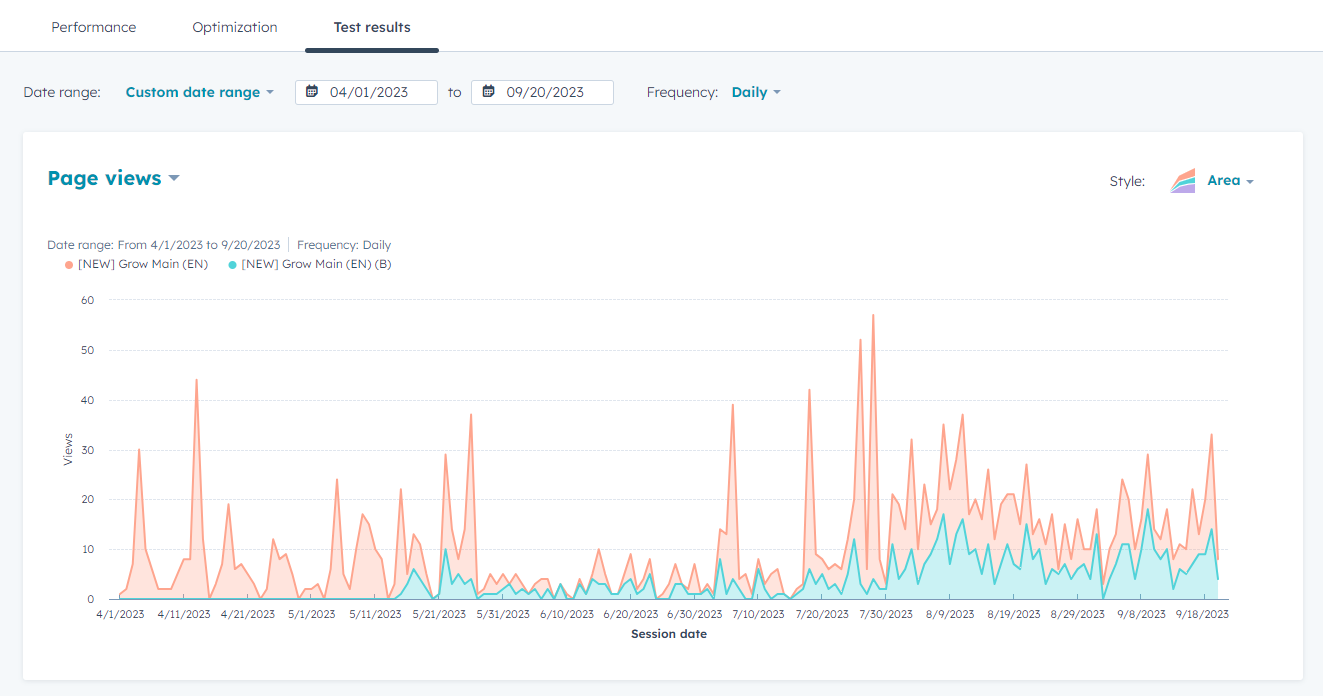 Moreover, you have access to performance analytics: how many form submissions was on each version, how many new contacts and customers, so as the bounce rate and average time on the page. With this tool, you can easily adjust your content for better conversion visitors to customers.
Content Collaboration
If you have a distributed team or collaborate with external content creators, HubSpot CMS provides collaborative features that streamline the content creation and approval process. These features promote teamwork and guarantee content consistency.
Excellent Support and Community
HubSpot boasts an active and supportive user community, complemented by excellent customer support. In case you encounter any issues or have questions, you can rely on a vast knowledge base and responsive support channels.
Furthermore, you can take advantage of HubSpot Academy's free courses, which can elevate your understanding of HubSpot to a whole new level.
In summary, it's widely recognized that a website should serve as a powerful asset driving growth and engagement. HubSpot CMS offers a wide array of features and benefits that make it an outstanding choice for businesses aiming to create and manage effective websites. From its user-friendly interface to its scalability and security features, HubSpot CMS can empower your business's online presence. Consider transitioning to HubSpot CMS to unlock the full potential of your website.
And, as usually, if you have any questions - just contact us! We would be glad to help!