10 Reasons Why You Have to Choose HubSpot CMS Hub
Max Vorozhtsov
You'll read it in

6
min
If you're considering a new CMS for your website, HubSpot's CMS is a great option to consider. I will give at least 10 reasons why you should think about using HubSpot CMS instead of any other CMS.
HubSpot CMS Integrated with Marketing and Sales Tools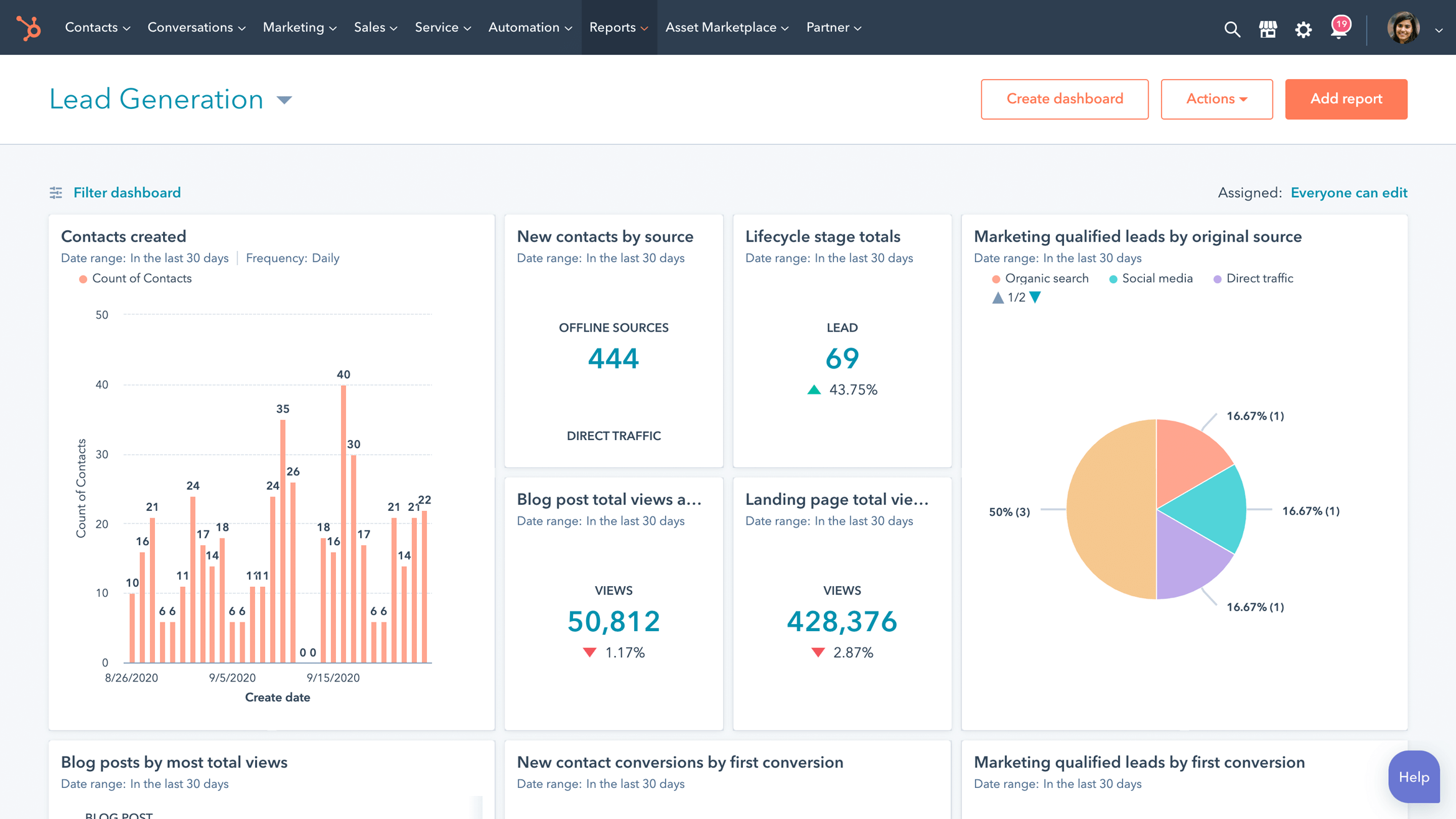 source: hubspot.com
HubSpot's CMS Hub is integrated with HubSpot's marketing and sales tools, allowing you to create a seamless customer experience across your website, email marketing, social media, and sales interactions.
HubSpot CMS Designed for Marketers
HubSpot's CMS Hub is designed with marketers in mind. With drag-and-drop editing, easy content creation, and pre-built templates, marketers can create and update content quickly and easily without needing technical skills.
More - using the "Growth Driven Development" approcach, you don't need to start full page at once, but encrich it with the new content and functionalities step by step, cause quite flexible HubSpot structure allows you to do it (instead of many CMS where such approach can be quite problematic and you need build the full site structure at once).
HubSpot CMS is Customizable
source: hubspot.com
CMS Hub is highly customizable, with the ability to create custom templates, modules, and global content. This allows you to create a website that's tailored to your brand and business needs.
Also, if in most of CMS multilanguage is quite huge & complicate task, in HubSpot CMS - no. Adding multilangual versions, translating of pages and global modules is quite easy, so it can be still done without additional developer help.
HubSpot CMS have Advanced Personalization
As marketing tool, CMS Hub, can personalize your website based on visitor behavior, location, and other criteria. This can help improve engagement and conversions. You can use or personalized tokens or smart content, that can show different content depends of site visitor. It can be quite useful when we are talking about the busines, that operates in several countries or in quite different cultural enviroments.
HubSpot CMS is SEO-Friendly
CMS Hub includes features that are optimized for SEO, such as page speed optimization, automatic XML sitemaps, and custom meta descriptions. This can help your website rank higher in search engine results pages.
source: hubspot.com
SEO tools, that available from Professional tier, gives not only the advices how to change site content and the functionality part, but gives you the possibility to build content clusters, that would give more understanding is the site content good enogh for the topic, you want to cover. It is quite powerful tool, that gives you more understanding for further content strategy development.
HubSpot CMS is Mobile-Optimized
This is not a secret, that more and more visitors accessing websites on mobile devices. So the page builder of CMS Hub give you the possibility to check the mobile responsiveness, ensuring a great experience for your mobile visitors. And again, yes - in most cases you don't need the developer to check & update your page for the needs of users that came to your page from mobiles.
A/B Testing

source: knowledge.hubspot.com
With CMS Hub, you can easily set up A/B tests to optimize your site's performance. Test different page elements to see what works best for your audience, than just leave one that work better. All this things are quite easy with A/B tests. Here also no developer assistance needed, only CMS Hub at least on Professional tier.
HubSpot CMS is Scalable
Whether you have a small site or a large, complex site, CMS Hub can scale to meet your needs. As was tolded previously - adding multilanguage version is not a problem, adding the new module to any page is not a problem, any content changes is not a problem. In most cases - this is not a problem even for marketer.
Analytics and Reporting
source: hubspot.com
CMS Hub includes detailed analytics and reporting tools to help you measure your site's performance and identify areas for improvement. Also, to have all data in one place, you can add the Google Search Console data to your analytics, to measure the SEO performance in the HubSpot at once.
HubSpot CMS is Secure
Security is a top priority for HubSpot, and CMS Hub includes features such as SSL certificates, automatic security updates and two-factor authentication to keep your site and data safe. Learn more about security in CMS Hub in our blog post.
Just to summarize, HubSpot's CMS Hub offers a complete solution for your website needs, with integrated marketing and sales tools, easy-to-use content creation and editing, customization options, advanced personalization, SEO optimization, mobile optimization, security, scalability, A/B testing, and analytics and reporting.
If you're looking for a CMS that is designed with marketers in mind (and for marketer's usage) and can help you ensure a seamless customer experience, CMS Hub is definitely worth considering. Want to learn more about it? Or are you looking for a seamless HubSpot implementation for your business? Get in touch with us!