Harness the power of AI. New tools in HubSpot
Jarosław Czyżewski
You'll read it

7
min
Artificial intelligence is currently a key technology for Marketing Automation and content creation support. The popular ChatGPT is not the only thing AI has to offer. Its power is utilized by tools like the Content Assistant and ChatSpot. In this article, I will introduce these two new AI tools available in HubSpot, which will help unlock the potential in content creation and efficiently manage ongoing activities in HubSpot CRM.
AI-based solutions are rapidly conquering various areas, including marketing. We recently discussed how neural networks can contribute to more effective marketing and how ChatGPT can assist copywriters. However, the abundance of tools can be troublesome for users who wonder which features to invest in and find themselves switching from system to system. HubSpot addresses these difficulties in line with its "all-in-one" principle and proposes two new fully integrated AI tools within the platform.
What is the Content Assistant?
The Content Assistant is a HubSpot feature that helps generate ideas, outlines, or complete texts on a given topic. It also facilitates the improvement of existing texts. It utilizes the GPT OpenAI model and works for blog posts, knowledge base articles, pages, emails, CTAs, and, for Marketing Hub users in the Professional or Enterprise version, their social media publishing tools.
How to modify existing content using the Content Assistant?
Using the Content Assistant to create based on existing text is incredibly easy. It works for texts entered in the rich text editor or the article body for the knowledge base. After clicking on the formatted text section, simply select the portion you want to work on, and an icon with a lightning bolt, the Content Assistant icon, will appear next to it.
Clicking on the Content Assistant icon will display options from which you can choose what you want to do with the selected text.

As seen, you can:
Rewrite: Generate a different way of expressing the same content.
Expand: Expand the selected text.
Summarize: Shorten the selected text.
Change tone: Reformulate the selected text in a chosen style: friendly, professional, witty, , heartfelt or educational.
After selecting the appropriate option, a dialog box with the result and buttons to regenerate the response (Generate) or insert it into our text (Insert) will appear. A new version of the same query can be generated up to 5 times in a row.

How can the Content Assistant help create new content?
The Content Assistant also allows the creation of entirely new texts. To do this, simply type '/' in the rich text editor, and a list of commands will appear for selection.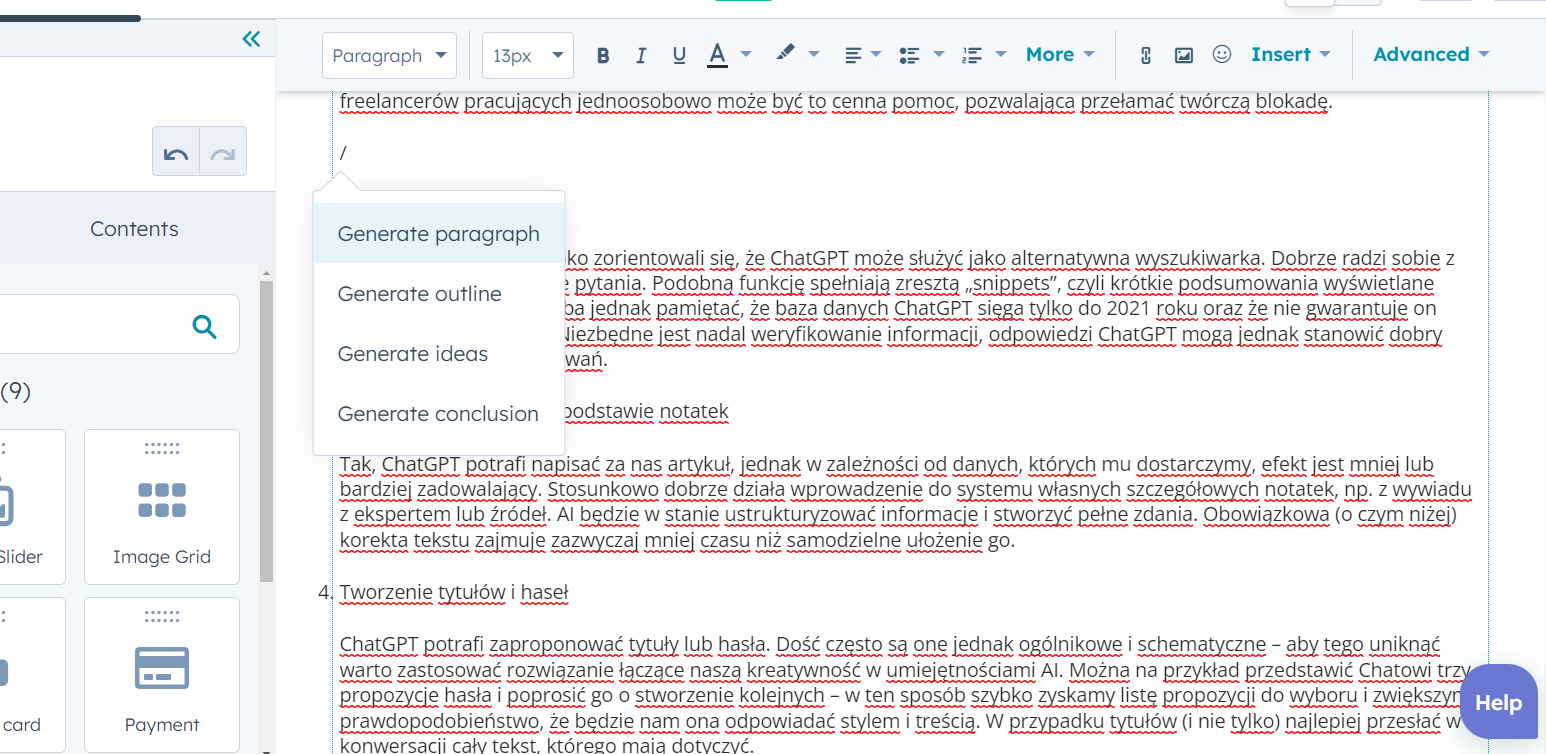 This time, there are different options available for various types of texts. For blogs, the options are as follows:
Generate paragraph
Generate outline
Generate ideas
Generate conclusion
After selecting the appropriate option, a window will appear where we can specify our query.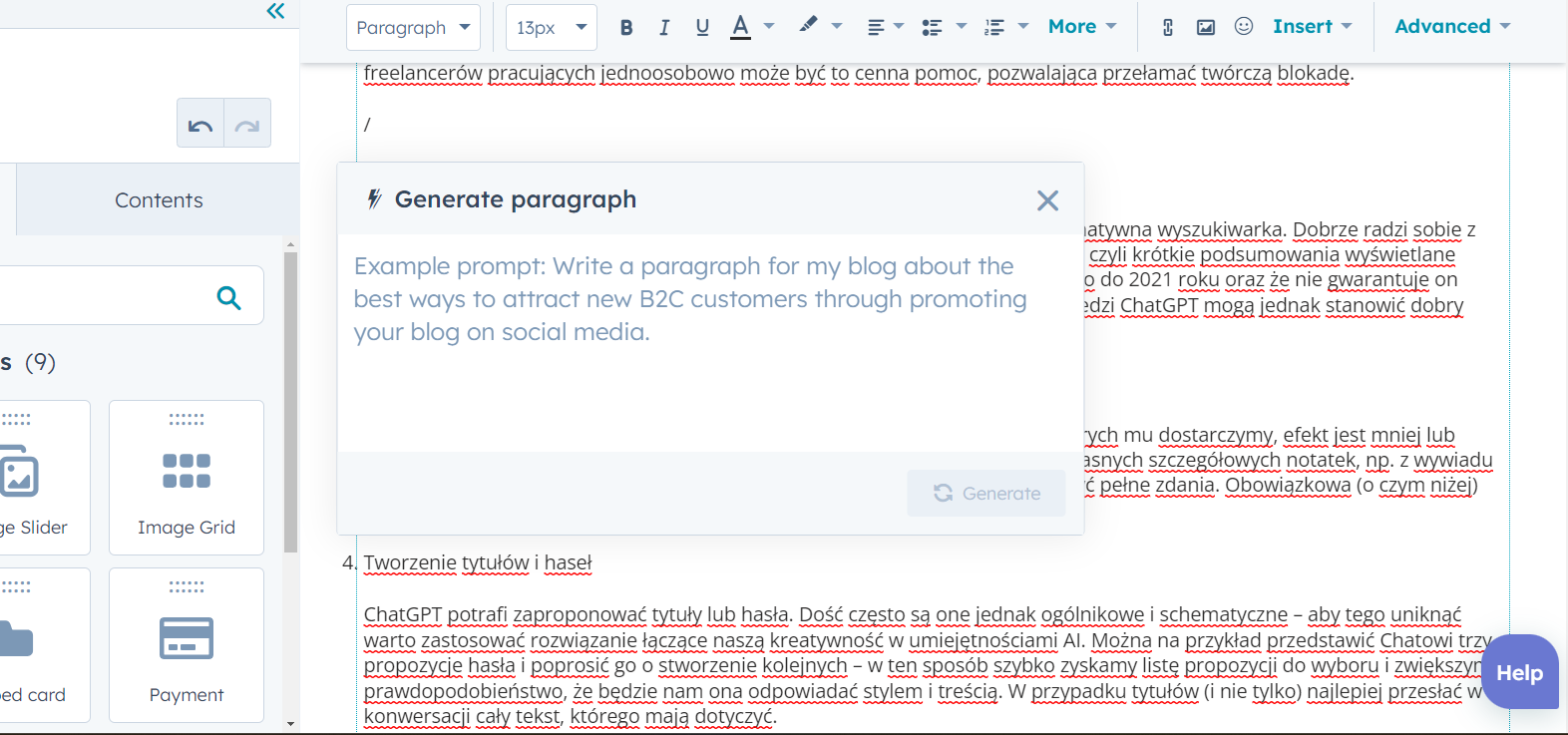 Of course, the Content Assistant won't write an entire text for you, but it can serve as a guide in the process. It provides ideas for materials, proposes an article outline for the chosen topic, and helps expand individual paragraphs while summarizing the whole piece concisely. It's worth experimenting with its suggestions, modifying them, and then using your own texts as a basis for further queries. With the help of the Content Assistant, you can leverage the potential of AI directly in your text editor, which will speed up your work and overcome creative blocks that may occur when facing a blank page.
What is ChatSpot and how can it help you?
ChatSpot is a bot that harnesses the power of ChatGPT combined with HubSpot capabilities. With ChatSpot, artificial intelligence can actually perform daily tasks in your CRM on your behalf.
After logging into ChatSpot (you don't need a HubSpot account to use it), all you have to do is enter a question or command in the chat window.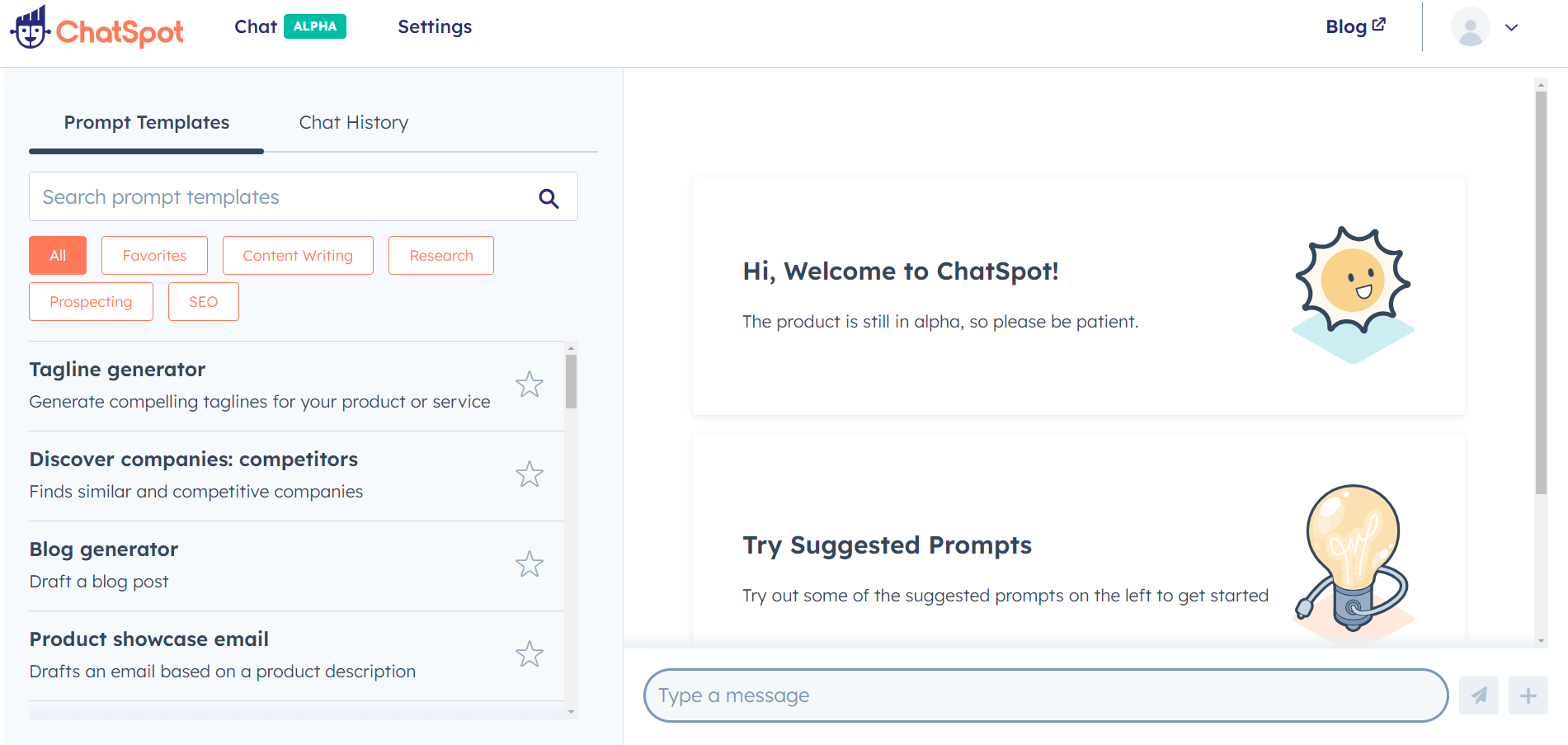 ChatSpot suggests queries and areas where it can be utilized. Examples include:
CRM support: ChatSpot adds a contact to your list, displays a list of sentences assigned to a salesperson, outlines a follow-up email, and performs many other tasks.
Reporting: ChatSpot creates reports based on data from your CRM and supplements them with additional information from the web (e.g., geographic and statistical data). With just one click, you can add the report to the reporting section in your HubSpot.
Market research: ChatSpot identifies companies with specific parameters, assisting in research on competition or potential clients.
SEO: ChatSpot answers SEO analytics questions, such as indicating which keywords generate organic traffic.
Content creation: Similar to the Content Assistant, ChatSpot suggests topics, creates outlines and text proposals, as well as images, and directly adds them to your blog.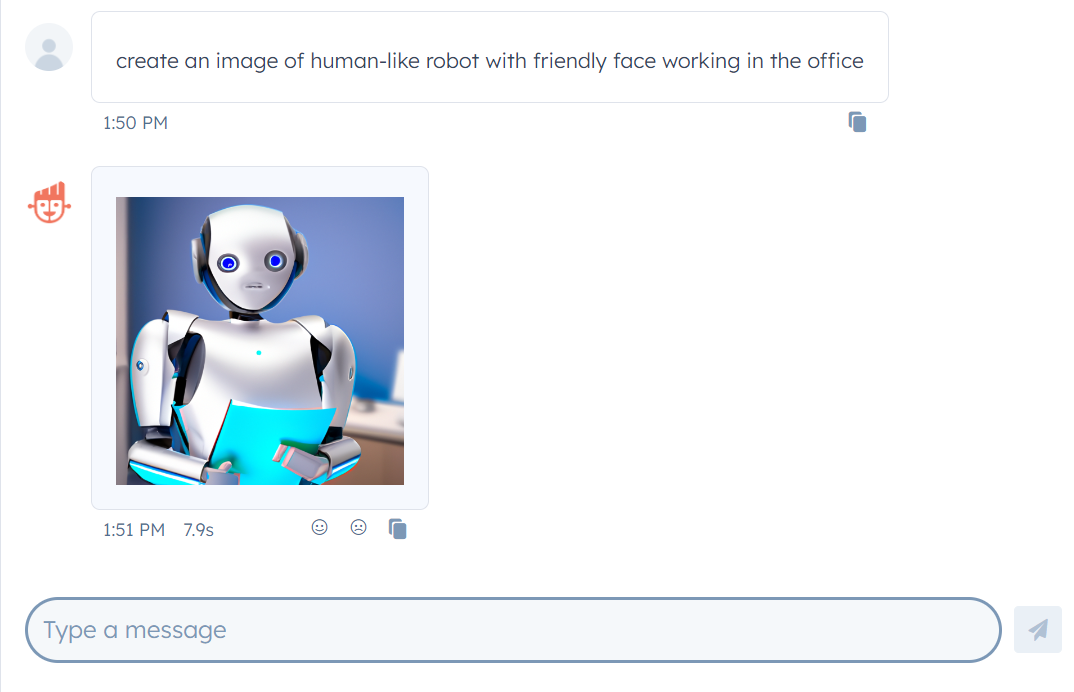 All the tasks performed by ChatSpot can, of course, be accomplished independently in HubSpot, by utilizing AI tools or conducting your own internet searches. However, the real breakthrough is that now you don't have to carry out the sequence of actions yourself. Instead, you communicate the desired end result in a simple, conversational form. This allows you to focus on important tasks without the need for unnecessary manual execution of individual steps.
Harness the power of AI in marketing and sales
The Content Assistant and ChatSpot are tools that will streamline the daily work of marketers, salespeople, and all content creators working with HubSpot. Both solutions are currently available in test versions and are still being improved. HubSpot advises against sharing sensitive information in queries and recommends adhering to general principles regarding AI-generated content. Therefore, it's crucial to ensure the accuracy of the generated content, and currently, the best results are achieved for the English language.
Nevertheless, both tools are very promising and, most importantly, they are available for free to all HubSpot users within the platform they work with every day.
Are you interested in the latest features in your HubSpot CRM? Or perhaps you would like to start using HubSpot and grow with the latest AI technologies? Contact us; we would be happy to help you harness its full potential!