Using HubSpot to Create an Effective Email Marketing Campaign
Max Vorozhtsov
You'll read it in

6
min
Email marketing is a powerful tool in any modern marketer's arsenal. It allows you to connect directly with your audience, nurture leads, and drive conversions. To make the most of your email marketing efforts, you need a robust platform to manage campaigns effectively. In this step-by-step guide, we'll show you how to harness the power of HubSpot to create a highly effective email marketing campaign.
Building Your Email List
A successful email marketing campaign begins not with the email itself, but with the right audience. The best tool for segmenting contacts in HubSpot is the creation of Lists. To create a list, simply navigate to Contacts -> Lists -> Create List

There are 2 types of lists in HubSpot:
Static - when the number of contacts does not change after the list is created (you can only manually delete users from the list).

Active - when the number of contacts can change over time (this can happen when contacts start or stop matching the parameters you've defined for this list).
Additionally, lists can be based not only on contact properties but also on company and deal data.
Once the list is created, you can easily set the parameters to add contacts to it, such as:
Contact properties (age, location, interests, date contact was created, etc.)
User Activity
Company properties
Lead status
Deal properties (deal name and date, amount, etc.)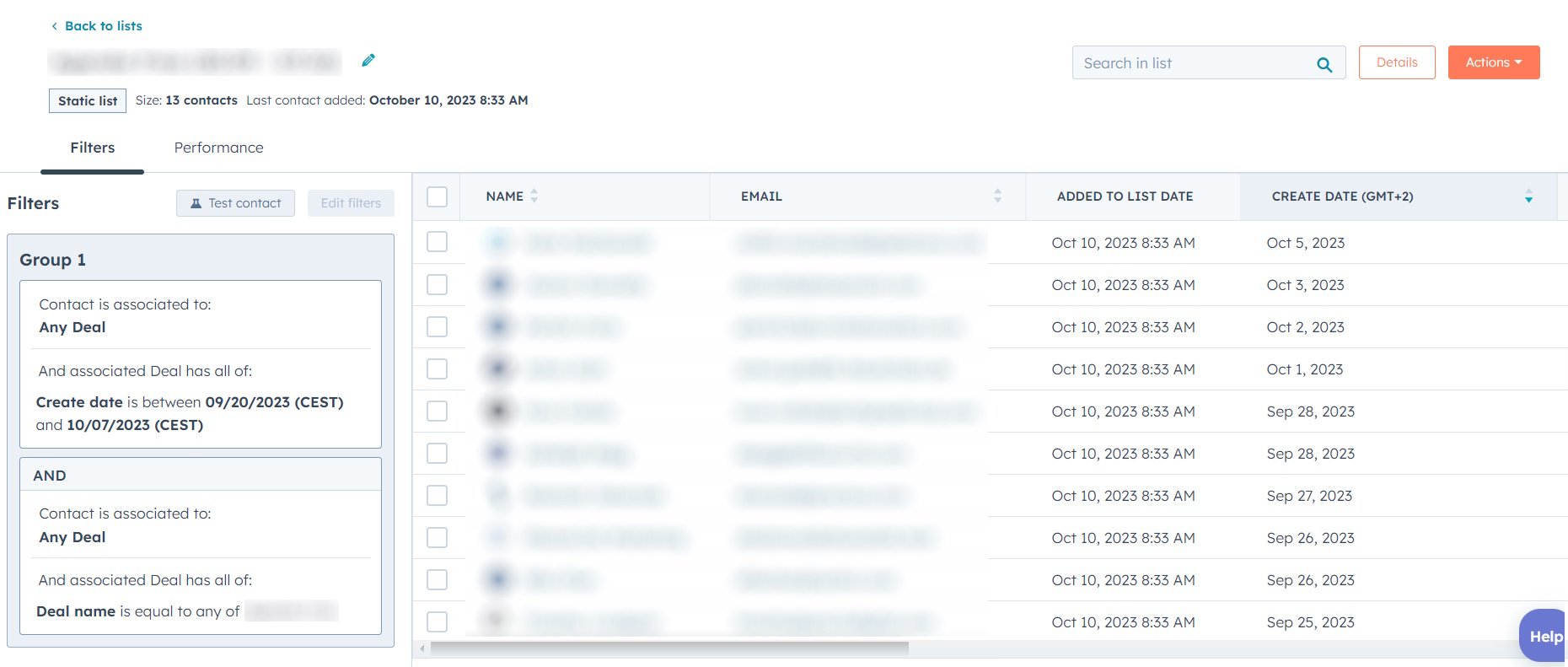 Creating Engaging Email Content
Once the list is created, you can switch to the email content, which is the heart of your campaign.
HubSpot's email editor makes it easy to create visually appealing emails. Furthermore, you can visit HubSpot's Marketplace to choose themes with prepared email templates.
Pay attention to subject lines and email copy, and personalize your messages for better engagement. It can be easily added in the visual editor - just click 'Personalize'."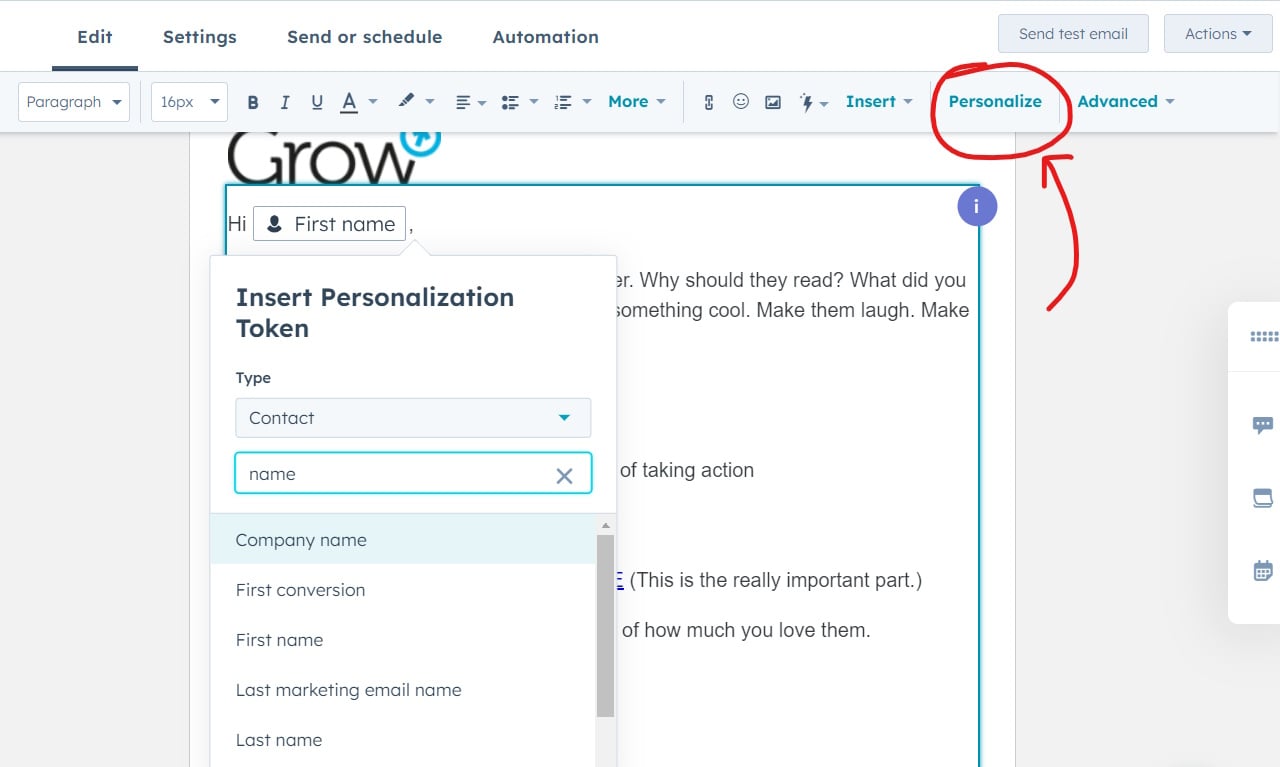 Automating Email Campaigns with HubSpot
Save time and increase efficiency by setting up automated email sending. You can use:
The standard campaign (send the emails now or on a scheduled date).

A workflow (where you can add additional processing steps).
Here's an example of a simple workflow that supports deals: it sends the email based on the deal type, with different time intervals (12 and 10 days), and for one deal type, it sends an additional email after 14 days.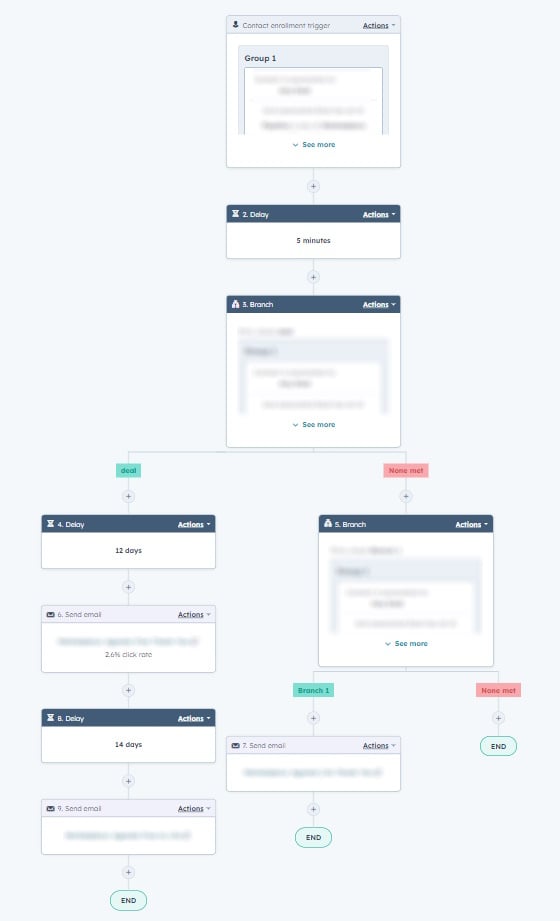 Also, explore different triggered email sequences for various scenarios, and don't forget to A/B test to optimize your campaigns.
Tracking and Analyzing Email Campaigns
Effective email marketing relies on data. HubSpot provides robust email analytics and reporting features. All you need to do is go to the specific email and check the performance tab.
At the beginning, you can find the most important parameters:
Open rate (overal and by the device)
Click rate (and click-through rate)
Reply rate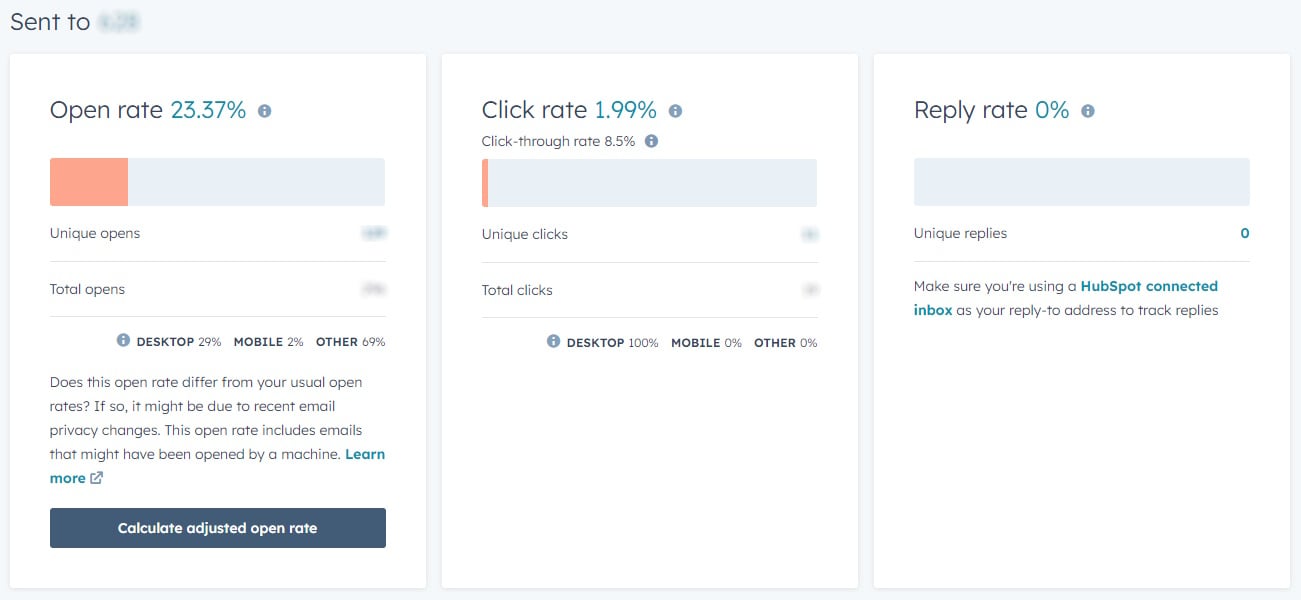 This data will help you understand what you should optimize in the email subject lines and message content. Additionally, if the information is insufficient, you can check the delivery section, which will show the number of successful deliveries, as well as the number of bounces, unsubscribes, and spam reports.

Best Practices and Tips
Email marketing is a potent tool for connecting with your audience and nurturing relationships, but it's crucial to follow best practices to ensure your campaigns are effective and well-received. Focus on acquiring permission-based subscribers who genuinely want to hear from your brand. This not only boosts engagement but also minimizes the risk of your emails being marked as spam. Moreover, segment your list based on demographics, behaviors, and preferences to deliver personalized content, as segmented campaigns tend to perform better (gladly, HubSpot gives such possibility, as I described previously).
When crafting your email content, ensure that it is visually appealing, mobile-responsive, and contains valuable information. Your subject lines should be concise, enticing, and reflect the email's content accurately. In the body of your email, maintain a clear and concise message, using engaging visuals and compelling calls to action. Consistency is another vital practice; send emails at regular intervals and stick to a schedule, so subscribers know when to expect your messages (and try not to be too obtrusive).
Tracking and analyzing your email campaigns are essential for optimization. Monitor key metrics like open rates, click-through rates, and conversion rates to understand what's working and what needs improvement. A/B testing can help you refine your strategies, from subject lines to content layout. Above all, respect your subscribers' privacy and adhere to email marketing regulations like the CAN-SPAM Act and GDPR.
Most of these best practices can be covered by HubSpot, so in this journey you can yield remarkable results for your business. With the right strategies, a growing email list, engaging content, and automation, you'll be well on your way to achieving your marketing goals.
Let us know if you have any questions and have a good mailing!