Integrating HubSpot CMS with HubSpot Marketing Hub and Sales Hub
Max Vorozhtsov
You'll read it in

6
min
In previous blog post I named the possibility of CMS Hub integration with sales and marketing tools as one of the advantages of HubSpot CMS. Today I want to dig a little bit deeper in this theme.
Just remind that HubSpot CMS is the content management system that allows you to create and manage your website & HubSpot itself offers a suite of powerful tools for marketing, sales, and customer service. So it may happen, that you build nice looking and fast page and use a lot of marketing and sales tools, but separately, without enriching one another. In this blog post, we'll explore how you can integrate your website built on HubSpot CMS with HubSpot Marketing Hub and Sales Hub tools to create a seamless experience for your customers and profit for business.
HubSpot CMS & Marketing Hub
HubSpot CMS and Marketing Hub are designed to work together seamlessly.
Track users experience & build your marketing on it
By integrating the two, you can create a cohesive marketing strategy that includes your website, blog, and email campaigns. Use HubSpot's email marketing tools to send targeted campaigns to your website visitors, and track their behavior on your website using HubSpot CMS.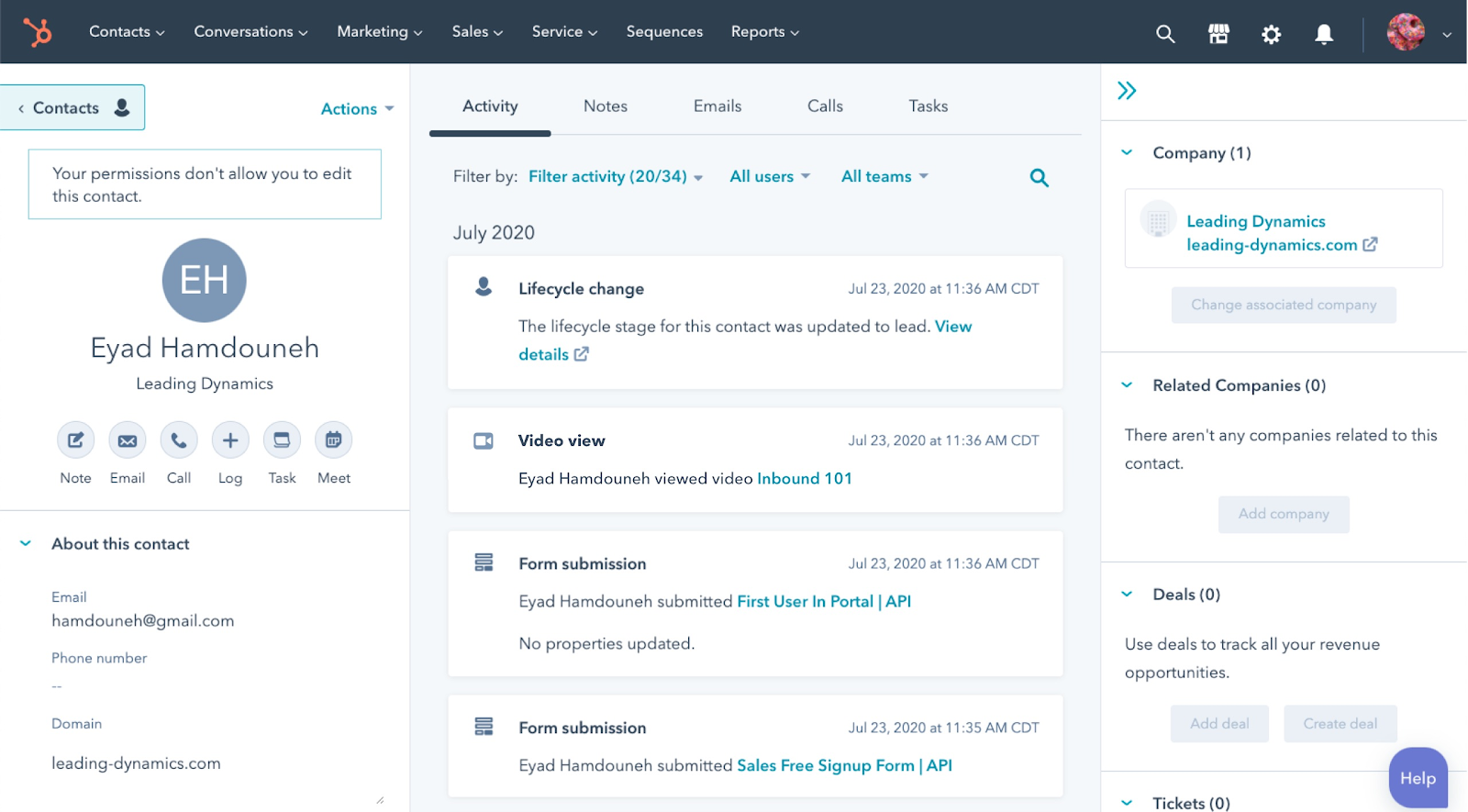 source: hubspot.com
You can easily add a targeted messages in your emails about services or products that was presisely observed by your visitors or create the users lists based on their behavior and send emails with the content that interested exactly for them.
More, if user is known, you can even change the page content by the visitors behavior (smart content can be used or, depends on needs - it can be programmed manually). Yes, in some cases you will need web-developer assitance, but it is possible (we already done such functionality for one of our customers - German cruises provider).
Use Smart CTAs and Forms
HubSpot CMS allows you to create smart CTAs and forms that change based on the visitor's behavior. For example, you can show different CTAs to visitors who are visiting your website for the first time versus those who have already engaged with your content. Use this feature to create personalized experiences for your visitors and increase conversions.
source: hubspot.com
Also, don't forget about progressive fields in the forms. Long story short: you can show to the known visitor only fields they not filled yet and hide fields for already known info. It can make the form shorter, and, as we know form behavior researches (formstack research for example), the chanse that it will be filled and send is much higher.
HubSpot CMS & Sales Hub
HubSpot CMS can also be integrated with Sales Hub to create a seamless experience for your sales team. Use HubSpot's CRM to track and manage your leads, and sync this data with your website using HubSpot CMS. This will give your sales team access to up-to-date information on their leads, allowing them to personalize their outreach and close more deals.
Workflows & Sequences
From the Sales Hub Professional tier there is a possibility to create workflows and the sequences. How can you use it with HubSpot CMS? As it was told - you can use forms and CTA's more effective with Marketing Hub integration, now, when interaction happened, you can easily automate sales process with sequences or handle the sales data with the workflows. Both tools can give you enough space to automate the sales process and make it more effective.
source: hubspot.com
With the sequences you will not forget to send your customer an email, with workflow, after interaction, you can change all visitor & company properties, manage lists (it was mentioned before why it is important and how it can be used), manage the advertising prefferences and many more.
Use Live Chat
HubSpot CMS also includes a live chat feature that can be integrated with Sales Hub. Use live chat to engage with your website visitors in real-time, answering their questions and providing them with personalized assistance. This will help you build stronger relationships with your customers and increase sales.
source: hubspot.com
HubSpot Analytics Tools
Finally, use HubSpot's analytics tools to track and analyze your website's performance. HubSpot CMS provides detailed analytics on your website's traffic, conversion rates, and other key metrics. Use this data to optimize your website and improve your lead generation and sales efforts. Also, as I mentioned in previous post - you can use CMS's SEO tools and then track your efforts with the connected Goolge Search Console.
source: hubspot.com
As we investigated - integration of HubSpot CMS with marketing & sales tools in rather native and don't need huge efforts. This is a powerful way to create a seamless experience for your customers. Use smart CTAs and forms, live chat, HubSpot's analytics tools, and HubSpot's CRM to create a personalized experience for your customers from start to finish. By doing so, you'll be able to increase conversions, close more deals, and grow your business with HubSpot.
Want to learn more about it? Or are you looking for a seamless HubSpot implementation for your business? Get in touch with us!